The Film
The icons of the American New Wave in the late 1960s and early 1970s moviemaking are generally held to be directors — your Robert Altmans and your Peter Bogdanoviches. But when you summon the gritty feel of that cinematic era, chances are the images that leap to mind are the handiwork of either Laszlo Kovacs or Vilmos Zsigmond.
No Subtitles Necessary: Laszlo & Vilmos is an ode to those two great Hungarian cinematographers and to their remarkable friendship, which survived wars, spanned continents, and endured the capriciousness of Hollywood during the Me Decade and beyond.
After escaping Hungary during the Soviet invasion, the aspiring cinematographers made their way to the United States and struggled to break into the film industry. Early on, the only work they could find was shooting extremely low-budget films, including the subtly titled features The Girl in the Invisible Bikini and The Incredibly Strange Creatures Who Stopped Living and Became Mixed-Up Zombies?!!
In 1967, Kovacs worked on a biker-themed film called Hell's Angels on Wheels, which happened to feature a young actor named Jack Nicholson. That led to his big break, when Dennis Hopper convinced him to sign on for an edgy new take on the biker film, called Easy Rider.
On the heels of that film's success, Laszlo recommended his friend Zsigmond to Peter Fonda. Suddenly, both were the most sought-after lensers in the new, young Hollywood.
Between them, they would shoot some of the most notable films in American cinematic history: The Deer Hunter; Close Encounters of the Third Kind; Deliverance; Paper Moon; Five Easy Pieces; New York, New York; Heaven's Gate; Frances; and dozens more.
The Filmmakers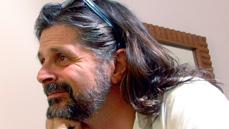 James Chressanthis

Producer/Director

Kian Soleimanpour

Producer