The Film
Year after year, the daily struggle between the Iranian border patrols and the poverty-stricken Kurds continues. Millions of people in Kurdistan are living under extremely poor conditions. Poverty and high unemployment rate force the Kurds to either move from Kurdistan to larger towns and cities in Iran or accept any job that comes their way. The Kurdish minority has always been repressed by the Iranian regime.
The story takes us to the border area between Iran and Iraq. We meet some Kurds trying to make a living and to support their families by smuggling petrol from Iran to Iraq. They can be caught, punished, or even killed by border patrols.
The primary story follows 50-year-old Tala and two teenagers, Rebowar and Shahoo, all of them engaged in the illegal transport of petrol across the border to Iraq. Shahoo and Rebowar are like brothers; Rebowar's parents adopted Shahoowhen he was orphaned during the war between Iraq and Iran. Tala is trying to earn enough money forthe surgery that will save her husband's sight.
Every day, the boys tie a 60-litre petrol tank to their backs and start a hazardous journey on foot through the mountain paths avoiding the border patrols. They also have to avoid the mine fields, which aren't always have marked. Hundreds of people have lost limbs or lives here.
If the boys are chased by the border patrols, there's a great risk that they might fall from the cliffs. During the harsh winter, the risk of freezing to death is all too real. The leaking petrol tanks provide another source of danger. Shahoo's friend Shadman (Tala´s son) burned to death trying to keep warm.
The Filmmaker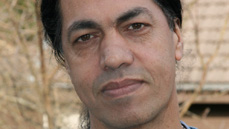 Nima Sarvestani

Producer/Director