The Film
Over the last 20 years, public trust in the press has steadily declined. Documenting a crisis-filled year at Pennsylvania State University's campus newspaper, The Daily Collegian, The Paper explores the vital role of the press from a fresh perspective: America's future media makers.
At a time when Penn State is churning with heated rallies, political debates and community concerns, the year's biggest stories are the Collegian's own problems. Circulation plummets amidst controversies over lack of diversity in the newsroom, faulty coverage of sexual assault, and limited access to university officials.
These issues raise questions about the Collegian's future: How will the newspaper stay financially viable as well as true to its mission of being the "independent eyes and ears" of Penn State? How will journalism students deal with such issues as decreasing circulation and rising barriers to investigative reporting?
The Paper is a revealing portrait of the young journalists whose disillusionment and determination are shaping the news of tomorrow.
The Filmmaker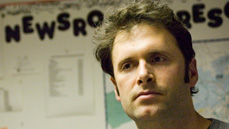 Aaron Matthews

Producer/Director