The Film
Known to its legions of fans simply as P-Funk, Parliament Funkadelic has had a profound impact on the development of contemporary music, aesthetics and culture. Parliament Funkadelic: One Nation Under a Groove chronicles the unique alchemy of the musical influences that fed into the band's singular approach to music, documenting P-Funk's continuing influence on today's artists and musicians, and featuring an in-depth look at the musical and entrepreneurial mastermind of its leader George Clinton.
What set P-Funk apart from other bands? In the music industry, George Clinton was known as much for his innovative business practices as for his music. Ultimately, Clinton morphed his core band members into multiple groups on multiple record labels, something no one had ever done. The band also created an alternate reality in which young P-Funk fans, especially African American males, could imagine themselves. George Clinton developed a mythology about "brothers" from another planet who came to liberate earth from the restrictions of Puritanical morality. It was a concept that allowed P-Funk's fans to transcend the confines of their neighborhoods and imagine themselves as citizens of a much larger universe.
At Parliament Funkadelic shows, this mythology was realized in highly theatrical stage shows, which Clinton called "funk operas." They featured elaborate and outlandish costumes and the landing of a space ship onstage — the Mothership — from which Clinton would emerge as Dr. Funkenstein, dressed in regalia that resembled a pimp from outer space.
Complete with a special vocabulary, hand signs, chants, and tribal rituals, P-Funk remains a not-so-secret society open to all who want a release from the restrictive mores of society. To enter, all you have to do is dance: "Free your mind and your ass will follow!"
The Filmmakers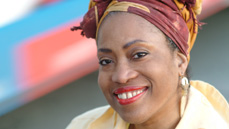 Yvonne Smith

Producer/Director

Harlene Freezer

Producer

Sharon Davis

Producer