The Film
One of the most distinguished editorial cartoonists in the world, Paul Conrad has won three Pulitzer Prizes, in addition to a long list of journalism's most prestigious awards — although his favorite distinction is his 1973 inclusion on Richard Nixon's enemies list. An extraordinary artist and journalist, Conrad epitomizes the fiercely independent voice that has been disappearing from American news media in recent years. Featuring nearly 200 Conrad cartoons and interviews with the artist's family, friends, and colleagues, Paul Conrad: Drawing Fire is a documentary tribute to this legendary editorial cartoonist who, at 81, is still drawing for the daily paper.
Fellow cartoonists including Tony Auth, Doug Marlette, and Mike Keefe wax poetic about Conrad as role model and shed insight on his place in the pantheon, as do columnist Harold Meyerson, cartoon historian Stephen Hess, and Huntington Museum Curator Sara S. Hodson. Former Los Angeles Times publisher the late Otis Chandler, Conrad's former editor John Carroll, former Times National Editor Ed Guthman, columnist Patt Morrison, and other Times staffers speak eloquently about the influence Conrad has had on them, the paper, and the public. Augmented by archival news footage of the 11 presidents Conrad has lampooned, the film also serves as a political pop history of the past five decades.
As traditional newspaper readership continues to decline, Paul Conrad: Drawing Fire spotlights a rarity: a beloved figure that makes us think about the issues, about ourselves, and about what it means to be a moral human being and a responsible citizen in modern times.
The Filmmakers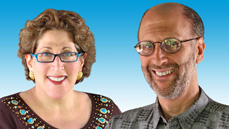 Barbara Multer-Wellin

Producer

Jeffrey Abelson

Producer