The Film
Power Paths offers a unique glimpse into the global energy crisis from the perspective of a culture pledged to protect the planet, historically exploited by corporate interests, and neglected by public policy makers.
The film follows an intertribal coalition as they fight to transform their local economies by replacing coal mines and smog-belching power plants with renewable energy technologies. This transition would honor their heritage and support future generations by protecting their sacred land, providing electricity to their homes and creating jobs for their communities.
Their story is a parable for our time, when the planet as a whole hungers for alternatives to fossil fuels. For environmental trailblazers, it's proof that going green is not only possible — it's the only choice we have.
The Filmmakers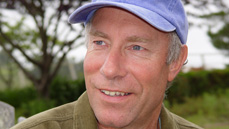 Bo Boudart

Director

Steve Michelson

Producer