The Film
For more than half a century, India and Pakistan have fought over Kashmir, a lush mountain region nestled in the Himalayas. Dodging artillery fire and escaping rape or torture remains the daily reality of those living in Kashmir, but much of the rest of the world remains uninformed about this bloody conflict that could potentially escalate into a full-scale nuclear war.
In 1947, the British partitioned its colonial property into the separate nations of Pakistan and India. At the time, Kashmir was the only state with a majority Muslim population, but Hindu leadership chose for the region to belong to India — a decision declared invalid by Pakistan. The United Nations called for the Kashmiri people to decide their own future, but years of violence and a relentless diplomatic tug of war have made this impossible. Divisions have gone deep, and wrought deadly results: Since the conflict began, it has claimed more than 40,000 lives by India's estimate; 80,000 by Pakistan's.
Though more alike than they are different, Kashmiri Muslims and Kashmiri Hindus remain divided by religious allegiances in the global diaspora. Project Kashmir was created out of a desire for dialogue between these two divided communities. Filmmakers Senain Kheshgi, a Pakistani American, and Geeta V. Patel, an Indian American, investigate the war in Kashmir and find their friendship tested over deeply rooted political, cultural, and religious biases they never had to face in the U.S.
The Filmmakers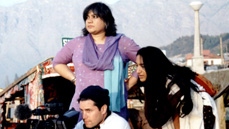 Senain Kheshgi

Producer/Director

Geeta V. Patel

Producer/Director