The Film
Race discrimination infects America's capital punishment system. According to a landmark study regarding race and the death penalty, a black defendant who kills a white victim is up to 30 times more likely to be sentenced to death than a white defendant who kills a black victim. Race to Execution traces the fates of two death row inmates, Robert Tarver in Russell County, Alabama and Madison Hobley in Chicago, Illinois. Their compelling personal stories are enlarged and enriched by attorneys who fought for these men's lives, and by prosecutors, criminal justice scholars, and experts in the fields of law and the media.
Race to Execution reveals how, beyond DNA and the issue of innocence, the shameful open secret of America's capital punishment system is a matter of race. Once a victim's body is discovered, his or her race — and the race of the accused — deeply influence the legal process: how a crime scene is investigated and the deployment of police resources, the interrogation and arrest of major suspects, how the media portrays the crime, and ultimately, the jury selection and sentencing.
With key 2005 Supreme Court decisions overturning death sentences in Texas and California due to racial discrimination in jury selection, Race to Execution offers a timely analysis. Neither advocating nor repudiating capital punishment, the film explores the inherent imbalances that lead to inaccuracy and unfairness in the application of the ultimate sentence.
The Filmmakers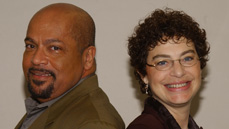 Rachel Lyon

Producer/Director

Jim Lopes

Producer