The Film
For close to a century, a great American epic has been played out in the tiny town of Caledonia, Illinois, about 75 miles west of Chicago. The Real Dirt on Farmer John tells the story of one man, his farm and his family — a story that parallels the history of American farming.
Equal parts performance artist, writer, and farmer, John Peterson has been known to switch out of his overalls into leopard latex or a purple-feathered boa.
In the early 1900s, Peterson's grandfather purchased and began to farm some acreage west of Chicago. The family tradition continued: Peterson's father farmed the same land, as did Peterson, after his father's death. Then came the 1970s. As a student at nearby Beloit College, Peterson was exposed to the era's wildly accelerating cultural changes which fed his artistic inclinations. His new student friends flooded the farm with a riot of art, freedom, and rock and roll, creating an art commune in the heart of conformist Midwestern America. Peterson was demonized by his neighbors as a drug-dealing cult murderer of animals and children, and blamed for the general decline in farm fortunes in the 1980s.
But before any resurrection was possible, utter desolation was required. Peterson lost most of the farm and descended into a deep depression. Trying to cope with his economic and personal failures, he was forced to take a journey of discovery and resourcefulness. In the early 1990s, Peterson returned to what was left of the farm, determined to bring it back to life.
Noticing the ongoing multinational takeover of American farming and betting instead on the future of organic produce, Peterson turned his enterprise into an organic operation. He was soon invited to become a community supported agriculture (CSA) farmer. A multi-faceted enterprise, the farm now provides fresh organic produce for 1,200 shareholder families.
The Filmmakers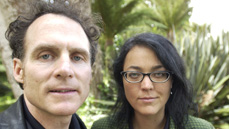 Taggart Siegel

Producer/Director

Teri Lang

Producer