The Film
In 2000, an experimental court opened its doors in Red Hook, Brooklyn, a neighborhood plagued by a cycle of unemployment, poverty, and crime. The Red Hook Community Justice Center (RHCJC) is at the center of a legal revolution: the community justice movement, which emphasizes neighborhood-focused problem solving and rehabilitation over punishment and doing time. Offenders are often sentenced to job training, drug counseling, and community service.
America's criminal courts are clogged with more than 11 million low-level crimes each year, many of them committed by repeat offenders. The RHCJC was created to stop this revolving-door phenomenon by turning around the lives of those who find themselves repeatedly before the bench and healing the surrounding community. Red Hook Justice profiles the early years of this bold new court.
The film focuses on the dramatic stories of three Red Hook defendants and a handful of staffers at the Center. Anthony and Michael are orphaned teen brothers who have multiple drug arrests and are struggling to get their lives in order, all while resisting the pull of the streets and their family's legacy of imprisonment and death. Letitia, who has sold drugs and worked as a prostitute, gets pregnant shortly after being arrested while trying to buy heroin.
Featured RHCJC staff include Brett Taylor, a passionate defender who handles a hundred criminal cases at a time and wonders if this new court helps or hurts his clients; District Attorney Gerianne Abriano, who works to redefine the role of prosecutor and sometimes finds herself in the unlikely position of advocating for drug treatment rather than jail; and Judge Alex Calabrese, the public face of the court who takes a hands-on approach with defendants.
The U.S. Department of Justice has called the Red Hook Community Justice Center "a standard bearer for the entire country."
The Filmmaker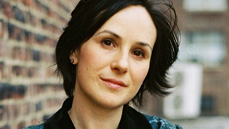 Meema Spadola

Producer