The Film
In June 1942, less than a year after Pearl Harbor, the Japanese army invaded the remote Alaskan island of Attu, in preparation for a larger advance into Canada and the lower 48 states. Although thousands of soldiers died in the ensuing battle, the American public was not informed of the attack for fear that widespread panic would occur.
Sixty years later, Red White Black & Blue escorts veterans Bill Jones and Andy Petrus back to the wind-swept terrain of Attu. The 80-something-year-old men confront ghosts from their pasts as they retrace their steps over a former battlefield littered with unexploded bombs, collapsed buildings, and crashed airplanes.
Through intimate interviews with Bill and Andy, the film explores what it means to be a soldier then and now. And for Bill, that means continuing the battle — even at the cost of his own peace of mind.
The Filmmaker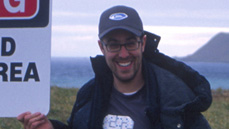 Tom Putnam

Director