The Film
Kurdish refugee Sirwan Namo travels across the world from New Zealand to Iraq in order to reconnect with the family he was forced to leave in 1982.
When Sirwan Namo was just a boy his family fled Iraq during the Kurdish genocide of Saddam Hussein's regime. He and his family would eventually find a new home in New Zealand as political refugees. Now, in the face of escalating violence, Sirwan risks his life to retrace his journey to freedom and to fulfill his promise to be reunited with his dying grandmother.
Relocated Mountains takes the viewer on a personal journey through the Middle East and into Iraq, offering a rare opportunity to witness the reality of life in and around the war zone, while giving insight into the Kurds, a people who have lived through one of the most devastating dictatorships in modern history.
The Filmmakers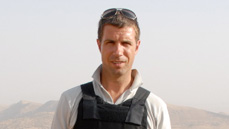 Matthew Metcalfe

Director

Julia Parnell

Producer