The Film
Revolution '67 returns to Newark, New Jersey in the summer of 1967 to reveal the untold story of what happened during the Newark rebellion against racism and brutality against African Americans. Through archival footage and animation we hear from the people who lived it: including activists Amiri Baraka and Tom Hayden, the police, the National Guard, and the media.
The Filmmakers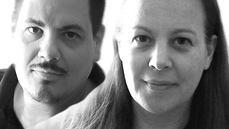 Marylou Tibaldo-Bongiorno

Producer/Director

Jerome Bongiorno

Producer
Producers Marylou Tibaldo-Bongiorno & Jerome Bongiorno are husband and wife filmmakers who formed their own production company, Bongiorno Productions. Marylou, a graduate of New York University's Graduate Film Department, is a director; Jerome is a cinematographer, editor, and animator.