The Film
The famous fighting monks of the Shaolin Temple have seen a resurgence throughout the world, aided in part by the popularity of kungfu movies starring Jet Li and the Academy Award-winning Crouching Tiger, Hidden Dragon. Narrated by Beau Bridges, Shaolin Ulysses: Kungfu Monks in America traces the odyssey of five real Shaolin kungfu monks from China who immigrated to America in the 1990s.
China's Shaolin Temple — the legendary birthplace of kungfu and Zen Buddhism — is today's contemporary martial arts mecca. The monks dream of building American temples, doing Las Vegas shows, and producing Olympic champions. From New York to Texas to Las Vegas, their stories reflect a unique version of the American Dream — Shaolin style.
The stories of the five kungfu monks who left their homeland are as individual and varied as the men themselves. Shi Guolin opened a successful Buddhist temple and kungfu school in Flushing, Queens. Li Peng Zhang has married an American woman and now is raising a family in Brooklyn, New York. Two monks, Shi Xing Hao and Shi De Shan, have landed in Houston, Texas, where they coach young athletes aspiring to the Olympics (where kungfu became a medal sport in 2008) and teach brutal self-defense and submission takedowns to Texas police. And, finally, one of the biggest Shaolin stars, Shi Xing Hong, is off to Las Vegas, where he sees a perfect opportunity to spread Zen and kungfu in America.
The Filmmakers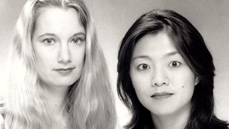 Mei-Juin Chen

Producer/Director

Martha Burr

Producer/Director
Shaolin Ulysses began as a concept between producers Martha Burr and Mei-Juin Chen several years ago. Burr was the editor of a kungfu magazine and Chen had recently debuted her documentary in Berlin on the famous Chinese opera star Mei Lanfang. Both shared an interest in Chinese culture and cross-cultural topics, especially between China and America.