The Film
At St. Scholastica Monastery in Duluth, Minnesota, a community of Benedictine nuns is facing the challenges of a changing population, diminishing numbers and a world where quiet contemplation — central to the Benedictine tradition — is considered a luxury.
In Sisters: Portrait of a Benedictine Community, filmmakers John Hanson and Tom Livingston chronicle two years in the lives of the nuns of St. Scholastica, a Benedictine monastery founded on a commitment to work, communal prayer, and leisure — the three aspects of monastic life prescribed by the sixth century Roman, St. Benedict.
As of November 2005, 121 sisters remained in a community once home to more than 500. The average age at St. Scholastica is nearly 80; few young women are entering the order and there is increasing pressure to adapt to contemporary life. Benedictine monasteries across the nation are experiencing a similar trend. In 1965, close to 180,000 Benedictine sisters lived and worked in the U.S.; by 2004, the number had declined to 70,000.
Cameras follow as the sisters chant prayers, share meals and pursue their ministries—including teaching, caring for the sick and serving the poor—amid a climate of change and uncertainty. The result is a candid look at the monastery's growing pains through the eyes of elder nuns, who hold fast to old traditions, and young inductees who challenge the parameters of a monastic life.
Whether singing the Psalms together in chapel, gardening or cheering with a Minnesota Vikings football game on TV, the nuns of Sisters consider their future with spirit, conviction, and wit.
The Filmmakers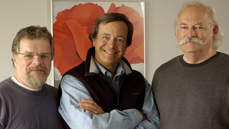 Tom Livingston

Producer

Jack Lind

Producer

John Hanson

Producer