The Film
At first glance, Imran Uddin is just another 27-year-old New Yorker struggling to take over his family's business — what's unique is that his father's business is a "pick-your-own" slaughterhouse. The son of an immigrant, Imran must confront his mixed Bangladeshi-Puerto Rican heritage and gain acceptance from his father's conservative Muslim community. On one of Islam's holiest days, Imran must lead a sacrifice that will define him as a Muslim, as an American, and as a son.
During the holiday of Eid-al-Adha, also known as Qurbani, Muslims are commanded to slaughter a goat, lamb, or bull to honor the Koranic story of Abraham's willingness to sacrifice his son for God. The event draws hundreds of families to the Uddins' slaughterhouse in Queens, New York City. The annual celebration holds symbolic meaning for the fathers who pass this tradition on to their sons. The slaughter also means grueling work, and Imran's efforts to manage the slaughterhouse culminate with his preparation for the Qurbani holiday. Yet, even as he toils, Imran, who is the son of a Bangladeshi father and a Puerto Rican mother, is challenged as not being "Muslim enough" by some of the slaughterhouse clients.
A Son's Sacrifice traces Imran's journey to convince himself, his father and his Muslim brethren that he is a part of their community. Produced by a Muslim-Jewish filmmaking team, the Uddin family's intergenerational story speaks to the shared experience of the children of immigrants.
The Filmmakers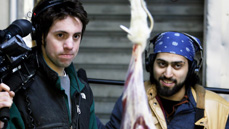 Yoni Brook

Director

Musa Syeed

Producer

marco williams

Producer