The Film
In June 1943, Ina Soep, the rich and beautiful daughter of an Amsterdam diamond cutter, met a married couple — a poor accountant named Jack Polak and his vivacious wife, Manja — at a birthday party for a friend. Six months later, the three of them were sharing a barrack at Kamp Westerbork, a Nazi holding camp in the north of Holland. So begins one of the most complex stories of love, hope, and transcendent luck to emerge from the Holocaust.
Steal a Pencil for Me chronicles Ina and Jack's improbable love story, weaving their past and present lives with the bitter sweetness of decades-old love letters written in concentration camps with stolen pencil stubs.
While at Kamp Westerbork, under the watchful gaze of his wife, Jack pursues Ina. Eventually, his persistence and optimism wins her heart. When Manja objects, the would-be lovers resort to exchanging secret love letters, creating a paper trail of their incredible courtship and of the grim reality that surrounds them. Against a backdrop of death and disease, hard labor and fights over stale bread, the two lovers hang onto their dreams. When Ina falls ill, it is Manja who gives up her bread so that her Ina might eat and regain her strength.
When the three are transferred to the infamous concentration camp Bergen-Belsen — the last stop for thousands of Dutch Jews — Jack labors from dawn until dark, yet still finds time to compose lyrical prose for his beloved.
Steal a Pencil for Me is the story of love blooming in the midst of genocide, of passion immortalized in a clandestine exchange of letters and of the optimism that sustains two star-crossed lovers caught in the crosshairs of the Holocaust.
The Filmmaker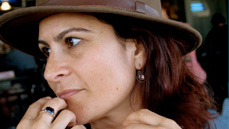 Michèle Ohayon

Director