The Film
On Friday, October 13, in 1972, charter flight 571 took off from Montevideo, Uruguay's capital city, carrying a boisterous team of wealthy college athletes to a rugby match in Chile. But what was supposed to be a first taste of freedom away from home turned out to be a much scarier and life-altering journey.
Stranded: The Andes Plane Crash Survivors is the tale of flight 571, which never made it to Chile. Instead, the plane crash-landed in a desolate glacial valley, high in the Andean cordillera — a chain of rugged, snow-covered peaks stretching from Bogata, Colombia to Punta Arenas, Chile. Fifteen people died, including the pilot. Five were badly wounded. But — miracle of miracles — 29 lived.
Three decades after the crash, the 16 survivors, interviewed in the film, revive long-buried emotions and intimate memories. They take viewers, moment by agonizing moment, through their suffering, as hope turns into despair and as hours stretch into days and weeks. And finally, just before disbelief hardens into bitterness and fear turns to madness, the unexpected happens.
With death by starvation drawing ever nearer, the survivors arrive at a universal conclusion — that in order to live, they must break a taboo: They must find their nourishment in the flesh of their teammates who have died alongside them in the snowy wilderness. The group closes ranks around the terrible, life-saving decision: a decision that sustains them over the 72-day odyssey and helps them fuse into a single organism dedicated to one purpose — survival.
The Filmmakers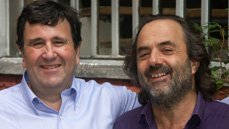 Gonzalo Arijon

Director

Marc Silvera

Producer