The Film
American competitors are rapidly changing the ancient Japanese sport of sumo. Is this a form of cultural appropriation, or merely a form of cultural appreciation?
Four years in the making, Sumo East and West offers a rare opportunity to go inside the highly secretive world of sumo, where the historical clash between East and West plays out in the story of the Western outsiders who have entered this quintessentially Japanese institution.
Sumo is not only Japan's national sport, but also a centuries-old cultural treasure that is literally part of the Shinto religion. Since the 1970s, however, the success of bigger, heavier American sumo wrestlers from Hawaii has marked a controversial change in the sport, culminating in the 1993 ascension of Akebono (Chad Rowan of O'ahu) to become the first non-Japanese yokozuna, or grand champion.
At the same time, foreign promoters have started marketing sumo in the West as part of a broader movement to gain Olympic status for the sport. Sumo has appeared in decidedly non-traditional forms, such as the glitzy tournaments in Las Vegas and Atlantic City. Yet the push to gain Olympic status has also required various concessions, such as the use of a non-dirt sumo ring, the acceptance of bicycle-style Lycra shorts under the sumo belt, and most radically, the introduction of sumo competition for women. In Japan, such developments remain the source of heated debate between purists and more global-minded elements in the sumo community that are eager to spread the sport worldwide.
The Filmmakers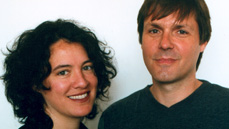 Ferne Pearlstein

Producer

Robert Edwards

Producer