The Film
The Supreme Price tells the story of Hafsat Abiola — a daughter determined to realize her parents' dreams of alleviating poverty and bringing democracy to Nigeria. In 1993, while Hafsat studied at Harvard, her father, M.K.O Abiola, was elected president of Nigeria. The military annulled the election results and seized power. Hafsat's father became a renowned prisoner of conscience and in response, Hafsat's mother, Kudirat, assumed leadership of Nigeria's pro-democracy movement, demanded that the U.S embargo Nigerian oil, and spoke out against the military dictatorship, actions which led to her assassination. Hafsat's father died two years later under mysterious circumstances on the eve of his release from prison.
The elections of 1993 and 2011 frame Hafsat's gripping account of her personal and professional development: from a young Muslim, Nigerian daughter of her father's second wife in a polygamous household, who was taught not to speak too loud and to be subservient to men; to an immigrant at Andover and then Harvard, where she found her voice; to an orphaned trailblazing social entrepreneur and human rights activist in exile fighting to end military rule in Nigeria; to a powerful leader in her own right who courageously returned to Nigeria in an effort to ensure that the democratic ideals her parents died for were not forgotten.
Hafsat founded her NGO, Kudirat Initiative for Democracy (KIND), on the premise that the key problem in Nigeria was the country's dysfunctional political leadership culture. She decided to focus on increasing the presence and influence of women in politics because she believes that empowered by the leadership training KIND offers, women will play key roles in advocating for a new more accountable system of governance that distributes Nigeria's wealth more equitably to its 150 million people. Following the spring 2011 election Hafsat was appointed to a prestigious political post and is working to meet the Millennium Development Goals set by the UN.
The Filmmaker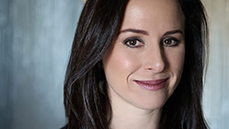 Joanna Lipper

Producer/Director