The Film
The year is 2025. All U.S. citizens in good health are now required to serve one year in a government job, placed by lottery at schools, soup kitchens, highways, and borders.
Tia Moran is six months pregnant and finishing her year as a patrol officer on the U.S.-Mexico border. Her service has taken its toll: After months of grueling work, she no longer empathizes with those who make it over the wall. "English-only" laws have prohibited government employees from learning or speaking Spanish, and far fewer Mexicans speak English, contributing to an intensified environment on the border. Tia is simply relieved that she can now return to New York City where she and her boyfriend will prepare for the birth of their son.
On her last night in Arizona, Tia discovers Mexican teen Marco — cunning, charming, and speaking perfect English — hiding in her house. Waiting overnight for Border Patrol to pick him up, she is forced to consider her loyalties to closed systems as well as her own humanity. At once a cautionary tale and a story of hope, Tia and Marco investigates the complexities of immigration through one personal interaction.
The Filmmaker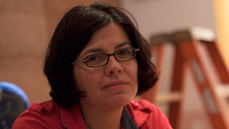 Annie Jennifer Howell

Director