The Film
Long-distance running is a way of life in the Arsi region of Ethiopia. In a country well acquainted with poverty, famine and war, world-dominating athletes are a source of intense pride. Many of the world's greatest runners hail from Bekoji, a small remote town in the Southern Highlands. In the Beijing Olympics, runners from the town won all four golds in the long distance track events.
The success Bekoji runners is largely due to the dedication of Sentayehu Eshetu,the former physical-education teacher in the local primary school. Since his protégé Derartu Tulu became the first African woman to win an Olympic gold in 1996, he has trained many of the world's greatest athletes, including double Olympic gold winners Tirunesh Dibaba and Kenenisa Bekele.
Bekoji holds few opportunities for its young people beyond subsistence agriculture. Only a small percentage of young girls in the town will move on from primary to secondary education and many will marry young. Athletics offers a chance at a different life: the Bekeles and the Dibabas live in the only two-story buildings in the entire town. Competition to become the next track star is intense, and the pressure on Sentayehu is high.
Punctuated by their preparations for crucial races and important life events, the film delves into the children's lives to understand the significance of running for them and the obstacles they face, in the end creating a portrait of African youth seen not through the standard lens of poverty and famine, but one of ambition and hope.
The Filmmakers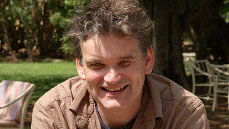 Jerry Rothwell

Director

Al Morrow

Producer

Daniel Demissie

Producer

Jonny Persey

Executive Producer