The Film
Trudell follows the extraordinary life of Native American poet and activist John Trudell, from his impoverished childhood in Omaha to his leadership in the American Indian Movement (AIM), and his reincarnation as an acclaimed musician and spoken word poet.
The film begins in the late 1960s, when Trudell and a community group, Indians of All Tribes, occupied Alcatraz Island for 21 months in a symbolic effort to claim the island for the Indian people. The event brought international attention to the Native American cause.
After the Alcatraz occupation, Trudell went on to become national spokesman of the American Indian Movement, earning a reputation as one of the most volatile political "subversives" of the 1970s. The FBI dossier on Trudell exceeded 17,000 pages, one of the longest in the bureau's history.
In 1979, Trudell's controversial career in politics came to a sudden end. Hours after he burned an American flag in protest on the steps of the FBI headquarters in Washington, D.C., Trudell's pregnant wife, three children, and mother-in-law were killed in a suspicious house fire on a Nevada reservation.
After years outside the public eye, in 1983 Trudell began to put his poems to music with the help of friend and fellow activist Jackson Browne and Kiowa guitar legend the late Jesse Ed Davis. The recordings drew the attention of musicians, activists and critics and put Trudell into the realm of social theorist and philosopher. In his musical and film career, Trudell has worked with the likes of Robert Redford (Incident at Oglala), Sam Shepard and Val Kilmer (Thunderheart), Kris Kristofferson, Bonnie Raitt, Jackson Browne, and Amy Ray of the Indigo Girls. Angelina Jolie produced Trudell's most recent album, Bone Days, and executive produced Trudell, the documentary.
Combining interviews with with archival footage, concert clips and abstract imagery, Trudell tells the story of a fascinating man and a complex artist whose impact continues to grow.
The Filmmaker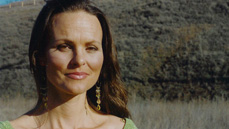 Heather Rae

Producer/Director