The Film
Thirty years ago, the only future that awaited young Vietnamese was war. But how have those born in the war's aftermath capitalized on the dividends of peace? The final film in Sandy Northrop's trilogy on Vietnam today, Vietnam: The Next Generation profiles the lives of seven young Vietnamese, revealing the challenges, choices and dreams that shape their lives, and that of their generation.
Vietnam's first postwar generation is coming of age, and its members — now in their 20s and 30s — are seizing opportunities unimaginable in their parents' time. Communism is losing its relevancy, the doors of a free-market economy are opening and memories of the war are being relegated to the distant past. This generation, representing 80 percent of Vietnam's population, is making up for lost time, exploring all the benefits and costs of their country's new economic and cultural future.
Yet prosperity is nowhere close to reaching all young Vietnamese. Vietnam: The Next Generation follows construction engineer Le Viet Tien, who works to rebuild the Ho Chi Minh Highway far from his wife and newborn child; Pham Van Vinh and his sister Loan, two of the thousands of children living on the streets of Ho Chi Minh City; and Le Thi Phuong, a rural farmer who lost a leg in a landmine accident and now struggles as the sole supporter of her entire family.
The new generation gap is perplexing to the old guard leadership in Hanoi, underscoring the immense challenges the government faces in meeting the aspirations of the young. As the people featured in Vietnam: The Next Generation prove, the social and economic answers ultimately lie with this generation, the future leaders of Vietnam.
The Filmmaker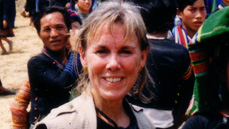 Sandy Northrop

Producer