The Film
They've become famous among the soldiers — more than 900,000 to date — who have passed through the airport in Bangor, Maine, on their way to and from the wars in Iraq and Afghanistan. Among their neighbors, they've become a source of pride. To a nation wrestling with the politics behind the wars, they're an inspiration. They are the "troop greeters" of Bangor, an intrepid group of retired and elderly citizens who have taken it upon themselves to greet every troop plane arriving or departing Bangor, which is the last and first piece of U.S. soil many GIs will see before and after their deployments.
The opening scenes of The Way We Get By makes clear why the troop greeters are surefire morale boosters for a war-burdened nation. Regardless of their personal views about the wars' politics, the greeters, some of them veterans, turn out at all hours of the day and night to show their respect for the soldiers' willingness to make sacrifices for the nation.
The Way We Get By takes a look behind the hearty smiles, handshakes, heartfelt thanks ,and free cookies and cell phones the greeters bring to the airport, and discovers a world in which the seniors are engaged in their own struggles with aging, disease, loneliness, memories of war, and personal loss. The film discovers a remarkable symbiosis between the soldiers' fighting mission and the greeters' fight to overcome pain, fatigue, and depression in making sure no soldier departs or returns without thanks.
The Filmmakers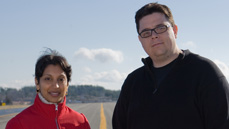 Gita Pullapilly

Producer

Aron Gaudet

Director