The Film
In October 1969, hundreds of young people wielding lead pipes and clad in football helmets marched through an upscale Chicago shopping district, pummeling parked cars and smashing shop windows. Thus began the "Days of Rage," the first demonstration of the Weathermen, later known as the Weather Underground. Outraged by the Vietnam War and racism in America, this group of former student radicals waged a low-level war against the United States government through much of the 1970s, bombing the Capitol building, breaking Timothy Leary out of prison and finally evading the FBI by going into hiding. In The Weather Underground, former Weathermen speak frankly about the idealist passions and trajectories that transformed them from college activists into the FBI's Most Wanted.
The Weather Underground emerged when Dohrn and a group of fellow University of Chicago students split with the campus-run Students for a Democratic Society, or SDS, because they disagreed with the SDS's peaceful protest tactics against the Vietnam War. Dubbing itself the Weathermen, this new organization took its name from a line in Bob Dylan's "Subterranean Homesick Blues" — "you don't need a weatherman to know which way the wind blows" — and within months had set off bombs at the National Guard headquarters and set in motion plans to bomb targets across the country that it considered emblematic of the worldwide violence sanctioned by the U.S. government.
Using extensive archival material such as photographs, film footage and FBI documents, The Weather Underground chronicles the Weathermen's public rise and fall and offers a rare insider look into the group's private conflicts. Fueled by righteous anger, these white, middle-class students were also widely criticized for their controversial — some say misguided — politics. Ultimately, the Weathermen's carefully organized, clandestine network managed to successfully dodge the FBI for years, although the group's members would eventually reemerge to life in a country that was dramatically different than the one they had hoped their efforts would inspire.
The Filmmakers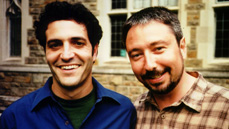 Sam Green

Producer/Director

Bill Siegel

Director

Carrie Lozano

Producer