The Film
In a celebration of urban wildness, The Wild Parrots of Telegraph Hill follows formerly homeless street musician Mark Bittner into San Francisco's avian subculture, where a remarkable flock of wild green-and-red parrots live and work to survive. Dubbed the "bohemian St. Francis," Bittner falls in with the flock as he searches for his path through life, unaware that the wild parrots will do more for him than eat his sunflower seeds.
The film reveals moving relationships between Bittner and the birds and explores passionate dynamics among the parrots, often linking their antics to human behavior.
Although he is no scientist, Bittner becomes something of an avian expert as he consults local birders and as he feeds, names, studies, and protects the cherry-headed conures — escaped pets who have begun to breed in the wilds of the city.
Parrot "stars" include Connor, the lonely blue-crowned conure, ostracized by the cherry-heads; Picasso and Sophie, an affectionate couple who love to cuddle; Pushkin, a single father who raises three babies on his own; and Mingus, a cherry-headed conure who tries to join the flock, but, hobbled by a crippled leg, comes to live with Mark Bittner in his house instead.
The film culminates with Bittner's race to save the parrots when his home (and that of some of the parrots) is threatened. Meanwhile, his own quest for survival and companionship uncannily parallels that of his birds. In the film's climactic ending Bittner does find the meaning he sought — though no one could have predicted the surprising form in which it comes.
The Filmmaker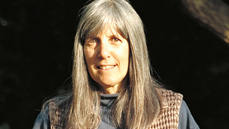 Judy Irving

Producer/Director