The Film
In October 1944, following crushing defeats at the hands of Allied forces, Japan's WWII military leaders dreamed up a last, desperate strategy — the Kamikaze, an elite corps of Japanese pilots whose airborne suicide missions were to cripple the fast-approaching U.S. Naval warships.
Few outside Japan knew that hundreds of Kamikaze actually survived the war. Wings of Defeat explores the life stories of four surviving Kamikaze pilots, revealing the tragedy of young men drafted to kill themselves in a war that had already been lost.
When director Risa Morimoto learned that her Japanese uncle had trained as a Kamikaze in his youth — but had carried that secret to his grave — she retraced his footsteps. Through interviews with four surviving pilots and family members, a portrait emerges, revealing the Kamikaze not as a one-dimensional symbol of either fanaticism or national heroism, but as a complex individual caught up in a system beyond his control.
Like their American counterparts, the Kamikaze were young men, full of talent, promise and dreams. The four pilots featured in the film were pulled from their studies and drafted into a hopeless and brutal war. Now octogenarians, the former Kamikaze reflect on their lost youth and their many peers who died. They recall climbing into their cockpits, certain they too would die — and how their will to live triumphed over both training and culture.
Japanese war propaganda films, American newsreels and pencil sketches by doomed trainees help to illustrate their stories. Interviews with U.S. seamen who survived Kamikaze attacks reveal the healing power and compassion that come with age and perspective.
The Filmmakers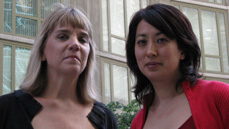 Risa Morimoto

Producer/Director

Linda Hoaglund

Producer