The Film
In a small town in the heart of the Pine Ridge Reservation, Sunny Clifford, her twin sister Serena, and their neighbor, Brandon Ferguson, share a common dream of helping to create a better future for their tribe. When South Dakota passes a law criminalizing abortion, their tribal President, Cecelia Fire Thunder, challenges it with a threat to build a clinic on the reservation, drawing Sunny, Serena, and Brandon into a political storm that changes the course of each of their lives.
Sunny Clifford works as a clerk at the Kyle grocery store, living in "the housing" in Kyle, population with her twin sister, Serena. The twins — who have dropped out of college — dream of finding a way to help make things better on the reservation, but they don't really know where to start. Their idealism is shared by Brandon Ferguson, their neighbor, who — like Serena — has young children.
All three look up to Cecelia Fire Thunder, the first female president of their tribe, as she counters a South Dakota law that makes abortion a crime, with no exceptions for rape or incest. Fire Thunder takes a stand by proposing a women's health clinic providing abortions on the reservation but open to all local women.
But Fire Thunder's bold proposal is seen by some as grandstanding, and the tribe is divided over both the abortion issue and Fire Thunder herself. Ultimately, Fire Thunder is impeached by her political enemies inside the tribal government (perhaps with the help of the South Dakota political right), an act that sets off a chain reaction in the lives of Sunny, Serena, and Brandon. A tumultuous tribal election to replace Fire Thunder and a state vote that defeats of the abortion ban, open a political rift between the friends, and help determine the adults they will become.
The Filmmakers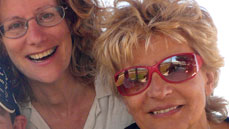 Marion Lipschutz

Co-Director / Co-Producer

Rose Rosenblatt

Co-Director / Co-Producer