Overview
The Graduates/Los Graduados explores pressing issues in education today through the eyes of six Latino and Latina students from across the United States. More than a survey of contemporary policy debates, the bilingual, two-part film offers first-hand perspectives on key challenges facing Latino high school students and their families, educators, and community leaders. It is the story of the graduates who will make up America's future.
The Graduates/Los Graduados broadcast on the PBS series Independent Lens on October 28 and November 4, 2013 at 10/9c. Learn More
The Graduates: Girls Hour The first hour of the series tells the stories of three young women who faced the interruption — or potential interruption—of their high school education. Young Latinas face unique challenges on the road to graduation related to the intersection of their ethnicity and gender. Stereotypes that portray Latinas as submissive and underachieving often provoke a lack of confidence and low self- esteem. Many Latino families hold cultural expectations that girls should not venture far from home or family and should shoulder a stronger sense of family responsibility than boys. Caretaking duties, especially for younger siblings, often fall to girls. Latinas have the highest teen pregnancy rates in the country – almost twice the national average.
The girls shown in The Graduates/Los Graduados face these challenges, but a combination of educational and community resources, as well as supportive families, help each one surmount the obstacles that might have prevented her from completing her education.
Events & Engagement Resources
Student Bios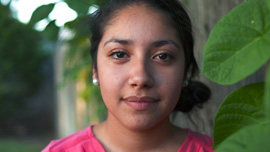 Darlene Bustos: Tulsa, Oklahoma Just before her sophomore year of high school, Darlene became pregnant, and as a result, began to miss classes and fall behind. After multiple absences, her school district finally asked her to leave. At the time she was focused on having her baby, school was a secondary concern. But after having her son Alex and enrolling him in a Head Start program, Darlene thought about her own academic future. Wanting to not only provide a good example for her son, but to catch up academically and graduate, Darlene enrolled herself in the Union Alternative School for at-risk students. Darlene is currently in school and working towards graduation day and beyond, while raising Alex.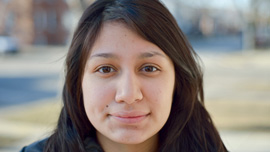 Stephanie Alvarado: Chicago, Illinois 
Stephanie was weighed down by the tough reputation of her school. Gage Park High School is under-resourced, and as Stephanie describes in the film, the metal detectors students must go through make the environment feel like a "prison." Stephanie became involved in Voices of Youth in Chicago Education (VOYCE), a youth-leadership project that aims to decrease the city's dropout rate. One key project of VOYCE is a peer jury, in which student-jurors discuss and then determine solutions for their peers who have committed a minor infraction that might otherwise result in suspension or expulsion. Through VOYCE, not only did Stephanie's grades improve dramatically, but she also participated in several activities that helped build her confidence: as a peer juror at school; as an outspoken activist in support of Chicago teachers; and as part of a student group helping to build schools in Senegal.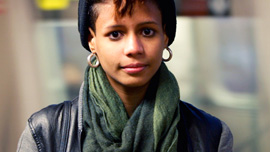 Chastity Salas: Bronx, New York 
After Chastity and her family — consisting of her mother and three younger brothers — became homeless, she coped with the situation as best she could. But the responsibility she felt toward her family made her question the point of applying to college, and interfered with her classes. The staff at Chastity's school, Fannie Lou Hamer Freedom High in the South Bronx, recognized the challenges in part because of the small classes and personal attention given to students. Through the services of Children's Aid Society, which partners with the school, Chastity was able to discuss her problems and her goals with the school's student success coordinator. Through this process, Chastity received the guidance she needed to make plans for her future, including completing college applications. Chastity thrived at school, using writing as an outlet for her feelings. In June 2013, she graduated from Fannie Lou and is headed to SUNY Potsdam in the fall.
American Graduate: Vamos A Lograrlo! Shorts
These short films are part of a public media initiative supported by CPB to help local communities across America find solutions to address the dropout crisis. More info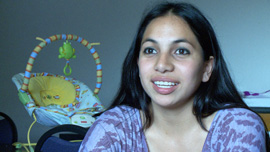 Baby Mama High
Directed by Heather Ross
It's the last few weeks of high school for Yessenia, a soft-spoken senior with two small daughters and a boyfriend who'd rather she stay at home than go to school. Yessenia is forced to choose: stand up for herself and her daughters, or give in to expectation.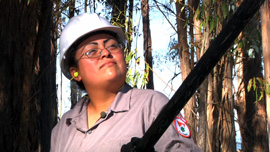 I Really Want to Make It
Directed by Ray Telles and Angela Reginato
Sharon Montano of Oakland decides to go back to school at age 20 after several years of substance abuse and other struggles. When she discovers Civicorps Academy, she finally gets another shot at a high school diploma — and a future.

American Graduate: Let's Make It Happen is a public media initiative, made possible by the Corporation for Public Broadcasting (CPB), to help communities implement solutions to the high school dropout crisis. Working with more than 75 public media stations in over 30 states, and Washington, D.C. and Puerto Rico, and more than 1,000 local partners and schools to keep students on track to graduation, American Graduate empowers individuals at the community level with knowledge through national and local reporting, convenes diverse local stakeholders, and provides access to free resources for students, teachers and parents. Public media is playing a significant role building individual activity, community capacity, and national awareness.
ITVS has launched a multi-platform campaign supporting the American Graduate initiative focusing on engagement with Latino communities across the United States: American Graduate: ¡Vamos a Lograrlo! Through this campaign, ITVS will provide an infusion of powerful storytelling with The Graduates/Los Graduados and the short films in both Spanish and English. These programs provide a window into the lives of young Latino students and the key moments that changed their destinies.