Diversity Development Fund Announces New Projects
Posted on November 21, 2013
ITVS has announced the eight documentary projects selected as part of the 2013 Diversity Development Fund, a funding initiative that provides research and development funding to producers of color to develop single documentary programs for public television.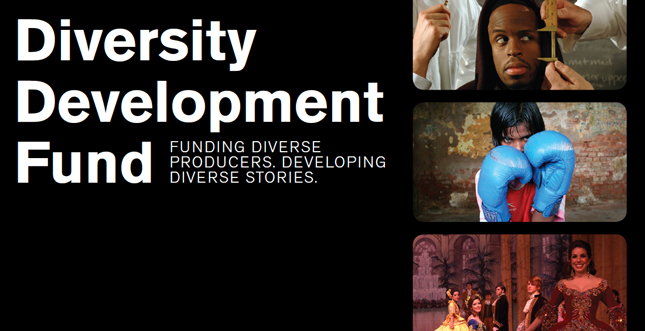 This year's selections provide extraordinary access and insight into the daily lives and struggles of people around the world, from Navajo railroad workers in the U.S. to an interracial punk band during the height of apartheid in South Africa. The productions were selected through a competitive application process, which resulted in 114 submissions. Check out the complete list of funded projects after the jump.
Africa Town by Kathy Huang
Africa Town documents the unprecedented migration of Africans into China. Through the adventures of several African traders who seek to make their fortunes in this new land of opportunity, we gain a fresh and uniquely non-Western perspective on China, immigration, and globalization.
Burn the Whole Thing Down by Alejandra Riguero
Burn the Whole Thing Down weaves the stories of the victories—and defeats—of three millennial candidates to create a portrait of a generation stumbling to make sense of a political landscape that by turns co-opts, rejects, courts and ignores them. The film will examine the conventional wisdom regarding the political attitudes of millennials and the limitations of a strategy predicated on constant uprisings against the establishment. Where does our country go if they win?
The G-Force by Pamela Sherrod Anderson
When parents are unable to, grandparents often fill in to raise their children. The grandmothers and grandfathers who step up to do this are today's G Force. Three stories of grandparents and their grandchildren make up this 60-minute documentary. Each story shows who is present in the lives of the grandchildren, the difference it makes, awareness of life's clock and the lessons learned by grandparent and grandchild.
Huntress and Prey by Sonia Kennebeck
This film is an investigative documentary about the human cost of drone warfare.
Jig Show: Leon Claxton's Harlem in Havana by Leslie Cunningham
Leon Claxton, a groundbreaking and highly successful black road show producer, influences entertainment and popular culture across North America with his traveling brown-skinned revue, Harlem in Havana- a so called carnival "Jig show" that innovates musical theatre in the early 20th century and gives birth to the entertainment icons who would one day change American pop culture during some of the nation's most turbulent and transformative years.
Metal Road by Sarah Del Seronde
For decades, thousands of Navajos found employment with the railways and maintained the complex trans-continental network of manmade tracks. Metal Road explores the dynamics of Navajos, traders, and the railroads through the lens of a Navajo trackman in a world inexorably linked by social, economic and political ties.
Rikuzentakata by Mina T. Son
When old photographs are returned to the residents of a Japanese coastal town wiped off the map by the 2011 tsunami, a poignant portrait of healing unfolds.
This is National Wake by Mirissa Neff
In the depths of the apartheid era, against the backdrop of race riots and strife, a pioneering South African punk band was born. At a time and place where even speaking with someone of another race was illegal, National Wake was a multi-racial band: Ivan was white, and Gary and Punka were black. This is National Wake tells their story: from their heady and idealistic beginnings, to the band's demise under the insurmountable forces of apartheid.
To learn more about ITVS's Diversity Development Fund, please visit: http://www.itvs.org/funding/ddf
read
Topics
From our blog
April 17, 2018

Now in it's 77th year, the Peabody Awards announced the winners of the 2018 documentary prize. Of the nine documentaries that will be receiving awards, three are ITVS-funded; Newtown, Deej, and Maya Angelou: And Still I Rise will be honored on May 19 at Cipriani Wall Street in New York."Our documentary filmmakers know what hard work is all about," noted…

April 12, 2018

New ITVS board member Danfung Dennis brings traditional and cutting edge storytelling perspective to the ITVS governing body.

March 8, 2018

ITVS-funded filmmaker Erika Cohn to discuss the unexpected joy in meeting Judge Kholoud and the project that became The Judge.