ITVS & FWD-Doc Working to Improve Disability Representation On and Off Screen
By Karina Sturm
Posted on December 8, 2022
ITVS has funded and partnered with a diverse range of documentary filmmakers to co-produce and distribute untold stories. Through its different funding initiatives, ITVS has supported filmmakers from varying marginalized communities, including filmmakers with disabilities. For the first time, ITVS and FWD-Doc have collaborated on the analysis of data on disability representation revealing a steep increase in applicants with disabilities since 2015. For this positive trend to continue, and for the number of funded projects to rise over time, ITVS is focused on better understanding the obstacles to access.
---
People with disabilities rarely get to see themselves authentically represented on movie and television screens, because the narrative is often objectifying, depicting the disabled person as either a tragedy or an inspiration. It's no wonder the lack of media representation and harmful portrayals were part of what sparked a civil rights movement tackling bias and a lack of accessibility, and spawned a mantra: "Nothing about us, without us!" Meaning, Don't represent us, without us.
Fortunately, organizations such as FWD-Doc and ITVS are addressing structural inequities, and through their separate projects and now also their collective efforts, change is afoot. As one of the early leaders in tracking diversity data in the media sector, ITVS has funded 27 filmmakers who identify as having a disability to develop and/or produce 36 films, with the award-winning When Billy Broke His Head being the first disability-related documentary funded through an ITVS grant 27 years ago.
From When Billy Broke His Head (1995)
Since then, ITVS has enabled many filmmakers from diverse backgrounds to share impactful stories such as Becoming Helen Keller (disabled filmmakers were consultants) and Unrest, as well as newer films like Move Me, Kelsey Peterson's story of her own journey to redefine her life after a spinal cord injury, hard of hearing artist/filmmaker Alison O'Daniel's The Tuba Thieves, ITVS co-production The Fight (La Lucha), about the National Union of People with Disabilities taking to the streets in Bolivia, and Fire Through Dry Grass, which explores New York City nursing home residents' fight to be heard during the COVID-19 pandemic.
FWD-Doc was publicly launched in 2020 (after first convening in 2018) to take the role of reforming agent and a showcase for disabled filmmakers, while at the same time empowering their members by lifting up their voices. FWD-Doc is a community of filmmakers with disabilities and their allies, founded by trailblazers in the field, such as Crip Camp co-director (with Nicole Newnham) Jim LeBrecht, Day Al-Mohamed, Lindsey Dryden, and Alysa Nahmias, joined by advising member Kyla Harris, and interim director Amanda Upson. They host online meetings and connect disabled filmmakers with production companies, but most importantly, they create the resources needed to improve the accessibility of the industry.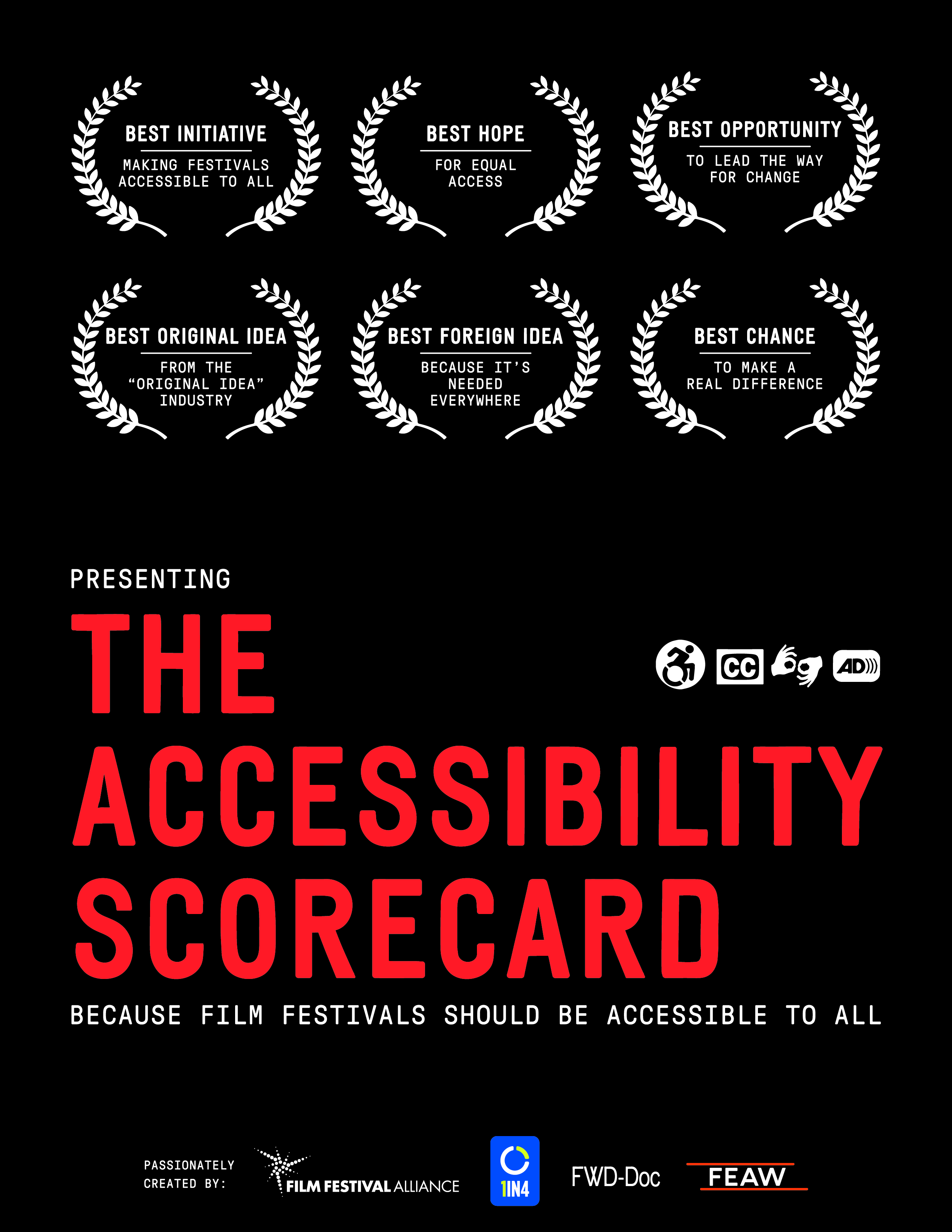 "We see repeatedly that disabled filmmakers do not lack talent, but lack access," says Upson. Ultimately, removing the barriers in the way for disabled talent on and off screen is the missing piece to improve disability representation.
"Our efforts within the world of documentary filmmaking have the ability to impact all genres of storytelling, nonfiction or fiction," says Jim LeBrecht, co-founder of FWD-Doc. "For instance, if you are able to show how authentic representation and inclusion of disabled talent creates profoundly compelling films, producers, studios and showrunners have to take notice. Supporting filmmakers from other marginalized communities has yielded remarkable projects. There's no reason why this isn't applicable to the disabled community."
Filmmaker/artist Alison O'Daniel
Earlier this year, FWD-Doc requested ITVS evaluate data that ITVS had collected for several years, with the ultimate goal of identifying actionable items to further improve disability representation in media. More precisely, the organizations looked at information gathered from the three main avenues for funding: the Diversity Development Fund, Short Form Open Call, and Open Call (the long-form co-production fund). The percentage of filmmakers who self-identified as belonging to the disability community on their application for ITVS funding increased exponentially from 2015 to 2022.
Most notably, the percentage of filmmakers self-identifying as members of the disability community increased from 2% to 10% of long-form production funding applicants. Additionally, the data suggests that over the years, a rising number of people belonging to multiple marginalized communities applied for ITVS funds: in 2021-2022, 60% of all applicants with disability were people of color, and up to 62% identified as non-male.
Notes: Filmmakers self-identified as having a disability in response to an ITVS application question asking if they identify as part of a community (Disability, LGBTQ+, Other). Filmmakers who selected "Disability Community '' or self-reported having a disability in the free response category are included. ITVS did not hold open calls for short form production funding in 2019 or 2022. Between 2015 and 2022, ITVS received a median of 708 applications per year for Open Call long-form co-production funding, 164 for Short Form, and 143 for development funding. Development funding, provided via our Diversity Development Fund (DDF), was only available to filmmakers of color. (Disability is identified by asking filmmakers if they identify as part of a community [Disability, LGBTQ+, Other]. Additionally, some filmmakers use the "Other Community - Other'' box to write in Disability.)
"Our two theories as to why we see this upward trend are first, more filmmakers with disabilities are applying for funding, and second, filmmakers with disabilities are increasingly becoming comfortable identifying as a member of the disability community," says Grace Anglin, Director of Research and Development at ITVS. "To us, the second point seems particularly important. Given past and current discrimination, these data are likely an underrepresentation,"
"It's often said that data is power. Without facts that demonstrate that deaf, disabled, and neurodiverse filmmakers exist or that they are already part of the film community, it has been tough to gain momentum in the fight for access to funding or inclusion within DEI efforts," says Jim LeBrecht. "When you have data that shows that disabled filmmakers are underrepresented in our industry when compared to our numbers (25%) in society, that information becomes an important talking point in the effort towards proving that there's a need for increased support for our community."
From Fire Through Dry Grass, the Reality Poets
"It's so encouraging to see the numbers increasing since 2015," advising member Kyla Harris adds. "There is still so much stigma around disability and so much ableism within the film and TV industry. We have always been discriminated against in front of and behind the camera. Hopefully, this means that disabled people are feeling more welcomed in the industry and safer to be themselves as a whole."
"And we'd expect to see disabled filmmakers' projects applying and receiving funding in proportion to the disabled population," Upson adds.
ITVS constantly reflects on the feedback they receive and therefore is currently in the process of bringing in an independent contractor to conduct an audit of the application process to ensure this step itself doesn't hinder disabled people from applying for the funds.
With every film that accurately portrays people with disabilities, we make a step forward and force others to follow, and soon, people with disabilities will be seen in every area of the industry. Disability won't be a "niche" but mainstream—as it always should have been—but more importantly, disabled people will feel seen and validated, and hopefully experience a landscape where they don't have to shout "Nothing about us, without us," because they are fully included on and off the screen.
---
About the Author: Karina Sturm is a multimedia journalist from Germany who used to live in San Francisco. She is a lab technician turned journalist with a focus on chronic illness/disability representation in the media, and received her MA with Distinction in international journalism from Edinburgh Napier University in Scotland. She loves sushi, heavy metal, the ocean, and dogs.
From our blog
August 10, 2023

ITVS is pleased to welcome Brandii Rice as our new Head of Business and Legal Affairs. In her role Rice will oversee business and legal affairs across the ITVS brand portfolio. In addition, she will guide licensing and business strategies to support ITVS' content development, production, distribution and audience development goals. She will join ITVS…

June 7, 2023

Carrie Lozano joins ITVS from the Sundance Institute, where she served as director of Documentary Film and Artist Programs, supporting boundary-breaking filmmakers across the globe. At ITVS, she will continue to protect independent artists' voices, editorial control and copyright while elevating nonfiction storytelling as an essential strategy…

June 1, 2023

Discover how Lisa Tawil's appointment to the International Board of INPUT strengthens worldwide collaboration in public media.