Watch Women, War & Peace Tonight on PBS
Posted on October 11, 2011
Women, War & Peace — the first installment from the Women and Girls Lead campaign — is a new five-part series challenging the conventional wisdom that war and peace are men's domain. The program premieres tonight at 10pm on PBS (check local listings).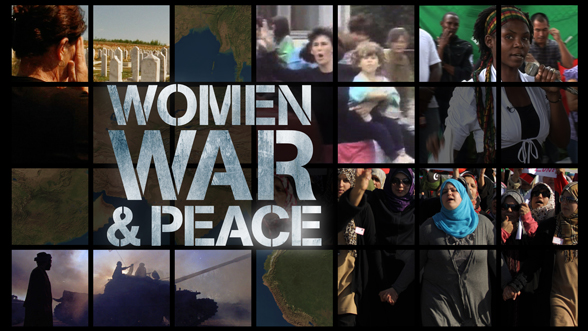 The vast majority of today's conflicts are not fought by nation states and their armies, but rather by informal entities: gangs and warlords using small arms and improvised weapons. Women, War & Peace by Abigail Disney, Gini Reticker, and Pamela Hogan, reveals how the post-Cold War proliferation of small arms has changed the landscape of war, with women becoming primary targets and suffering unprecedented casualties. Yet they are simultaneously emerging as necessary partners in brokering lasting peace and as leaders in forging new international laws governing conflict.
With narration by Matt Damon, Geena Davis, Tilda Swinton and Alfre Woodard; Women, War & Peace spotlights the stories of women in conflict zones from Bosnia to Afghanistan and Colombia to Liberia, placing women at the center of an urgent dialogue about conflict and security, and reframing our understanding of modern warfare. Women, War & Peace premieres Tuesdays, October 11, 18, 25 and November 1 and 8 at 10pm on PBS (check local listings). Watch the trailer after the jump >>
Watch the full episode. See more Women War and Peace.
Women, War & Peace is the first broadcast of Women and Girls Lead, a three-year public media initiative designed to focus, educate, and connect women, girls, and their allies across the globe to address the challenges of the 21st century. The program is a co-production of THIRTEEN and Fork Films in association with WNET and ITVS.
Topics
From our blog
August 10, 2023

ITVS is pleased to welcome Brandii Rice as our new Head of Business and Legal Affairs. In her role Rice will oversee business and legal affairs across the ITVS brand portfolio. In addition, she will guide licensing and business strategies to support ITVS' content development, production, distribution and audience development goals. She will join ITVS…

June 7, 2023

Carrie Lozano joins ITVS from the Sundance Institute, where she served as director of Documentary Film and Artist Programs, supporting boundary-breaking filmmakers across the globe. At ITVS, she will continue to protect independent artists' voices, editorial control and copyright while elevating nonfiction storytelling as an essential strategy…

June 1, 2023

Discover how Lisa Tawil's appointment to the International Board of INPUT strengthens worldwide collaboration in public media.