Gil Scott-Heron
A portrait of Gil Scott-Heron, legendary poet and musician famed for "The Revolution Will Not Be Televised" and called "the people's voice."
Funding Initiative

Series and Special Projects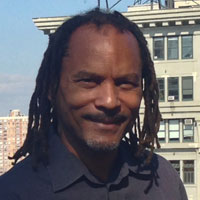 Producer/Director
Orlando
Bagwell
Orlando Bagwell returned to filmmaking after establishing Ford Foundation's Just Films fund, a $50 million initiative supporting the next generation of filmmakers. Over a nearly 10-year tenure at Ford, Bagwell supported several critically-acclaimed films from across the globe including Mother of George, The House I Live In, Detropia, American… Show more Promise, and Time Is Illmatic. With the launch of LakeHouse Films, Bagwell continues his highly distinguished career of over 25 years as a documentary filmmaker in which he has been honored with 4 Emmy Awards, numerous Emmy nominations, three Peabody Awards, two DuPont Awards, and several Grand Prize recognitions at prestigious film festivals worldwide. Serving in a range of positions from Producer/Director to Executive Producer, Orlando has been the creative force behind a variety of projects from biographical documentaries —Citizen King, A Hymn for Alvin Ailey, Malcolm X: Make It Plain— to social-issue films — Matters of Race, The Great Depression and two episodes in the landmark Eyes on the Prize series, to name a few. Through LakeHouse Films, Orlando is currently serving as an Executive Producer on 3 1⁄2 Minutes, a documentary examining the "stand your ground" law in light of the shooting death of teen Jordan Davis. In connection with 3 1⁄2 Minutes, Orlando produced a NY Times' OpDoc, When Music Turns Deadly, that was presented at Film Independent's annual showcase. Show less
We fund untold stories for public media.
Learn more about funding opportunities with ITVS.
The Film
With hit records such as "The Revolution Will Not Be Televised," "The Bottle," "Johannesburg," "Angel Dust," "A Very Precious Time," "Lady Day and John Coltrane," and many more, Gil Scott-Heron spoke to all aspects of life and a range of social issues. He held an uncanny ability to paint a detailed picture of his community and the offending inequities from society at large. As his popularity grew with each release, Gil Scott-Heron was essentially appointed "the people's voice." He stepped into a role that left some feeling uneasy, while many deeply appreciated the understanding and social critique otherwise rarely expressed. This in-depth biographical portrait is a unique passage through the life of a prolific performer, poet, and author and the social movements and inner city trends representing the last decades of the 20th century Through Gil's mastery of words, we experience his incredible wit, compassion, and insight. Using his immense catalogue of songs and writings, along with interviews and stories from close family, friends, and band members, Gil Scott-Heron weaves concert footage, rare interviews, and personal video to reveal his overflowing charisma and brilliance. Even as drug addiction, prison, and failed health dominate his final years, Scott-Heron's personal journey offers a valuable message. His music and his life story challenge a new generation to consider their role in the world they inhabit, and this film turns the spotlight once again on a much-needed voice and enduring legacy that proves relevant to this day.
Topics