Sonic Trace: Dropping In
In the midst of one of America's most failed school districts, Youth Build Boyle Heights (YBBH) is a beacon of hope.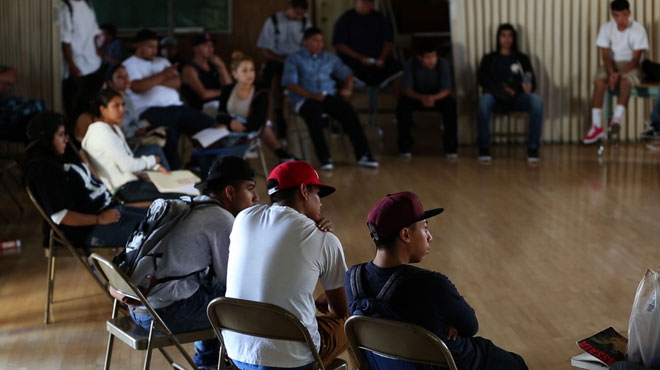 Funding Initiative

Open Call
Producer/Director
Anayansi Diaz-Cortes
Anayansi Diaz-Cortes is an award-winning independent producer for public radio in the US. In 2012, as part of AIR's Localore initiative, she moved from New York to Los Angeles to work with KCRW to create the radio documentary and transmedia series, Sonic Trace. Her work has aired on PRI's The World, NPR's All Things Considered, KCRW's To the Point and Unfictional.
Producer/Director
Carmen Vidal
Carmen Vidal is a writer, director, and cinematographer from Spain whose work has been exhibited and recognized in numerous international film festivals. Her short film 6 a.m. received a Student Academy Award in 2006 and aired on the prestigious European TV station ARTE. Her short film Slate premiered at the MoMA as part of the New Directors/New Films… Show more Festival in 2010. Carmen works as a producer/editor for the TV show Nueva York (CUNY TV), recipient of eight New York Emmys, including the NY Emmy for Best Cultural Magazine in 2008, 2009, 2010, 2011, and 2013. She is also one of the lead producers for the multi-media documentary project, Sonic Trace. Show less
We fund untold stories for public media.
Learn more about funding opportunities with ITVS.
The Film
In the midst of one of America's most failed school districts, or so-called "drop-out factories," Youth Build Boyle Heights (YBBH) is a beacon of hope. This program gives young people that have aged out of the traditional school system the opportunity to graduate high school.
Most of the student body has either dropped out or has been kicked out. Many have criminal records, 80% of the girls became mothers as teens, and 25% of students face the challenges of being undocumented. We follow 21-year-old student Raul as he struggles to overcome the death of his brother, shot dead by a gang rival at the corner of his house. Another student, Kevin, was shooting an AK-47 against Salvadoran police by the age of ten. Canek Peña Vargas, their history teacher, chose to teach at YBBH with the dream of changing the system one high school student at a time.
Sonic Trace follows a year in the life of a small high school in the heart of a troubled neighborhood in East LA.
Topics