The Film
Compañeras is an intimate profile of America's first all-female mariachi band: Mariachi Reyna de Los Angeles. Since 1994, this 12-member group has been taking on a male-dominated musical tradition and building the popularity of mariachi music.
Alternating between heart-stirring performances and behind-the-scenes band drama, the film reveals the intense, passionate world of female mariachi. Interwoven throughout are the stories of two women: 19-year-old Angelica, a devoted groupie of Reyna who comes to Los Angeles to fulfill her dream of auditioning for the group, and Cindy, the group's leader and the only non-Latina, who struggles to assert her authority over the other members without alienating everyone.
As the stories of Cindy and Angelica unfold over the course of the film, we witness other members of the group struggling with issues universal to women everywhere: how to balance family life with career, how to achieve equal pay, how to deal with emotional conflict and how to balance competing priorities.
Musically stunning and emotionally compelling, this intimate film sheds light not only on a unique and fascinating Mexican tradition, but also on larger issues of gender and culture in American society.
The Filmmakers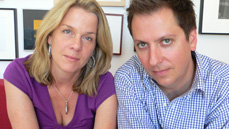 Elizabeth Massie

Producer

Matthew Buzzell

Producer