The Film
Zarqa, Jordan's second largest city, is a rundown, industrial metropolis and birthplace of Abu Musab al-Zarqawi, the notorious mastermind of al Qaeda's terror operations in Iraq who was killed by American forces in 2005.
Recycle reveals the distinct yet intertwined stories of three native sons of Zarqa: al-Zarqawi; Abu Ammar, an ex-Mujahadin fighter who now supports his family of 11 by collecting cardboard to recycle; and filmmaker Mahmoud al Massad who, from behind the camera's lens, coolly unravels the knotted threads of poverty, humiliation, and strict religious doctrine that have made the city a continuing source for jihadist recruits.
The central story is Ammar's; his attempts to build a normal life in the impoverished town are thwarted at every turn. He cannot afford his rent; a scheme to sell used vehicles in Iraq fails when he is almost killed by extremists and American soldiers, and the book he is writing — a moderate interpretation of jihad — goes unfinished.
Inscrutable, undaunted, and ever-devout, Ammar labors alone at night in an abandoned storefront transcribing his personal interpretations of scripture from slips of paper stuffed in garbage bags onto an old desktop computer. But, when the war on terror strikes close to home, he is swept up and forced to deal with the reality that his life is falling apart. His surprising decision to try something completely different suggests that, when push comes to shove, desperate acts can emerge from the most ordinary of circumstances.
The Filmmaker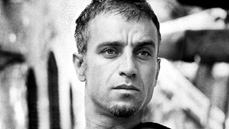 Mahmoud Al Massad

Director