A Reckoning in Boston
A white, suburban filmmaker sets out to document low income students of color in a Boston night school, and finds it's his own education that he needs to reckon with.
Series

Independent Lens

Premiere Date

January 17, 2022

Length

90 minutes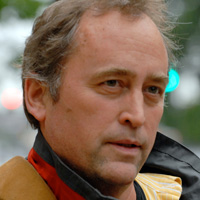 Producer/Director
James Rutenbeck
James Rutenbeck is an award-winning documentary filmmaker. His numerous works have been screened internationally at museums and festivals, including Museum of Modern Art, Cinema du Reel, Robert Flaherty Film Seminar, National Gallery, Margaret Mead Film and Video Festival, and Lussas International Film Festival, among others. James'… Show more feature-length film Scenes from a Parish won the Insight Award of Excellence in three categories from the National Association of Film and Digital Media Artists. He has also received the DuPont Columbia Journalism Award for episodic PBS programming, as well as grants from the Sundance Documentary Fund, Latino Public Broadcasting, and the Southern Humanities Media Fund. James produced, directed, and edited two half-hour films for The Raising of America, a California Newsreel project about the social ecology of child development in the U.S. Editing credits include over 50 films for PBS, BBC, Channel Four (UK), Discovery Channel, and Showtime.  Show less
Producer
Kafi Dixon
A Black Woman, an Urban & Rural Farmer and a Generational New Englander, in 2017 Kafi Dixon founded Boston's 1st Cooperative for Women and its 1st Worker / Owner Urban Farm Food Coop. Initially named the Women of Color Co-op, in embracing women of all races, class and culture the co-op was renamed Common Good Co-op. In response to the socioeconomic… Show more experiences of lower resourced and impoverished communities, and the intimacy of community violence women in Boston experience, as producer of A Reckoning in Boston Kafi shares her experiences, hopes, and perspective as she asks us to bear witness to the systemic violence and interrogate resolutions. Show less
Producer
Carl Chandler
Carl is a baby boomer, a product of the Sixties. He was born in Boston, as was his grandmother, father, two daughters, and a grandson. His ancestry is Black, Indigenous American, and western European. Because he felt that his people were not respected or embraced by America, Carl made the calculation early in life to opt-out of chasing the material excesses… Show more of the so-called "American Dream." Throughout his life he has given lectures and presentations on indigenous culture in southern New England as his small contribution to the education of young people. Poor, but not impoverished, he feels his own education has been incomplete. When his youngest daughter went away to college, he struggled with what to do next. A year later he found the Clemente Course in the Humanities. There, he received a first-rate education and a new direction in his life. He was elected class graduation speaker, and this honor confirmed to him that he should speak to the positive impact Clemente has on a person's life. He has spoken in videos, public forums, and small classes. This is his first film. Show less
We fund untold stories for public media.
Learn more about funding opportunities with ITVS.
The Film
In 1995, writer Earl Shorris launched the first Clemente Course in the Humanities, proposing that low-income adults should have the same access to the humanities as Ivy League freshmen. He claimed, "People who know the humanities become good citizens, become active, not acted upon." Throughout the United States, The Clemente Course in the Humanities has proven to be a transformative educational experience for adults facing economic hardship and adverse circumstances, giving them a free opportunity to explore the great works of literature, art history, moral philosophy, and American history. Its proponents assert that Clemente students – many of whom have experienced homelessness, transitioned out of incarceration, or faced financial barriers to a college education – become fuller and freer citizens after completing the course. White, suburban filmmaker James Rutenbeck went to Dorchester, Massachusetts, arguably Boston's most diverse neighborhood, to document students' engagement with the Clemente Course in the Humanities. What began as an academic inquiry became a collaborative, interpersonal experience when James realizes he can't keep himself out of the narrative. His relationship to the story is influenced by two students, Kafi and Carl.
Kafi Dixon is a Boston bus driver and urban farmer who seeks equity for low-income women of color who have experienced trauma and disenfranchisement. At 44, she is sharp, witty, and restless, having dropped out of school at 15. She had her first baby a year later and two more soon after. In the Clemente Course, Kafi reads dialogues about the city in Plato's Republic and grapples with rejection in her own hometown, a community swept up in the allure of development and gentrification. Carl Chandler is a community elder who wants to tell his family's story to the wider world. 65 years old, Carl lives on a small pension and disability payment in one of Boston's most dangerous neighborhoods. He began the class with a profound interest in learning but little faith in educational institutions. As James spends time with Kafi and Carl, he's awakened to the violence, racism, and gentrification that threaten their very place in the city. Over time, he is forced to come to terms with a flawed film premise and his own complicity in racist structures. He wants to remain a witness and allow Carl and Kafi to tell their own stories, but James comes to understand the film cannot be fully realized until he speaks up too.
Topics