Adama
A 16-year-old Muslim girl growing up in Harlem is picked up by the FBI on suspicion of being a "potential suicide bomber."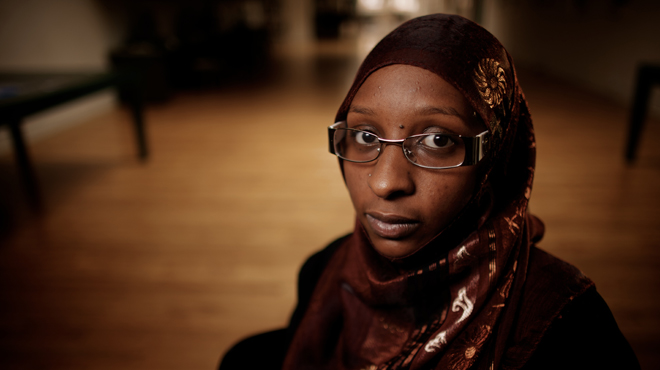 Series

America ReFramed

Premiere Date

November 6, 2011

Length

60 minutes

Funding Initiative

Open Call
Producer/Director
David Felix Felix Sutcliffe
David Sutcliffe is a Sundance Award-winning documentary filmmaker. In 2013, he was included in Filmmaker Magazine's annual list of "25 New Faces of Independent Film." His first film, Adama (PBS), is an hour-long documentary that explores the story of a 16-year-old Muslim girl growing up in Harlem who was arrested by the FBI on suspicion of being a… Show more "potential suicide bomber." (T)ERROR, co-directed with acclaimed photojournalist Lyric R. Cabral, premiered at the 2015 Sundance Film Festival where it won a Special Jury Prize for Break Out First Feature. Along with co-director Cabral, Sutcliffe was honored by the International Documentary Association with the 2015 Emerging Filmmaker Award. In 2014, he was selected as a fellow for the Sundance Institute's Edit and Story Lab, as well as their Creative Producing Lab. His work as a filmmaker has been funded by the BBC, the NEA, the Tribeca Film Institute, the Sundance Institute, and the Independent Television Service. Show less
Producer
Su Kim
Su Kim is a Korean-American producer based in New York City. She is entrepreneurial, creative and committed to crafting compelling stories and supporting independent filmmakers. Her films in release include the Sundance Film Festival premiere Kimjongilia (dir. NC Heikin), Adama (dir. David Felix Sutcliffe) supported by ITVS, and Sound of Redemption: The Frank Morgan Story… Show more (dir. NC Heikin). As a producer, she has been awarded CPB/PBS Producers Workshop Scholarship as well as numerous grants from ITVS, the Sundance Documentary Film Program, NYSCA, Tribeca Film Institute and the US State Department. In 2014 she was selected along with five other women filmmakers as a Fellow for the Sundance Institute Women's Initiative. She is currently producing One Bullet Afghanistan (dir. Carol Dysinger), Sansón and Me, and Lupe Under the Sun (dir. Rodrigo Reyes) and Hale County This Morning, This Evening. Show less
We fund untold stories for public media.
Learn more about funding opportunities with ITVS.
The Film
On March 24th, 2005, Adama Bah, a 16-year-old Muslim girl, awoke at dawn to discover nearly a dozen armed government agents inside her family's apartment in East Harlem. She was arrested and taken to a maximum-security juvenile detention center in Pennsylvania. An FBI document leaked to the press mysteriously identified Adama as a "potential" suicide bomber and an "imminent threat to the security of the United States." After six weeks of public protest and media scrutiny, Adama was released with an ankle bracelet and a deportation order, but no terrorist charges. Still traumatized by the experience of her detention, Adama must drop out of high school and support her four younger siblings when her father is deported to Guinea, Africa. Using intimate verité footage, Adama captures the extreme pressures bearing down on this young Muslim girl and her desperate efforts to keep her family from unraveling.
Topics