American Promise
Idris and Seun go through grade school experiencing challenges and prospects for African American boys of all socioeconomic backgrounds.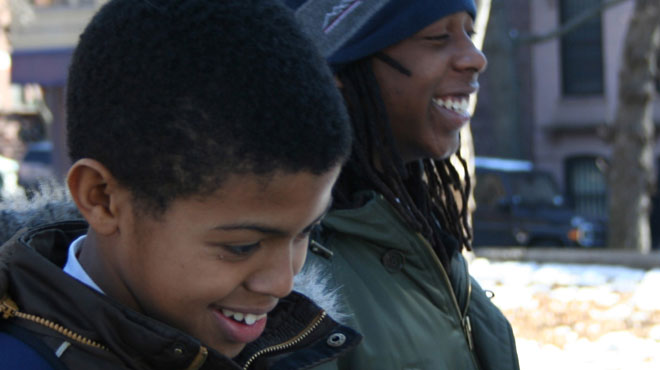 Series

POV

Premiere Date

February 3, 2014

Length

120 minutes

Funding Initiative

Series and Special Projects
Nominated
2014 News and Documentary Emmy Awards-Outstanding Coverage of a Current News Story - Long Form
Nominated
2014 News and Documentary Emmy Awards-Outstanding Editing: Documentary and Long Form
Nominated
2014 News and Documentary Emmy Awards-Best Documentary
Producer/Director
Michele Stephenson
Michèle Stephenson uses her international experience as a human rights attorney to tackle stories on communities of color and human rights. An early pioneer in the Web 2.0 revolution, Stephenson used video and the internet to structure human rights campaigns and train people from across the globe in video internet advocacy. Her work has appeared on PBS,… Show more Showtime, MTV, and other outlets. Stephenson's honors include: Best Film Directed by a Woman of Color, ADFF; Grand Jury Prize for Best Documentary, ABFF; Diversity Award, SilverDocs International Documentary Film Festival; and the Henry Hampton Award for Excellence in Film and Digital Media. Michèle studied at McGill University and received her JD at Columbia University. Show less
Producer/Director
Joe Brewster
Joe Brewster is a psychiatrist trained at the at the renowned McLean Hospital in Massachusetts. He uses his training as a jumping board for the issues he tackles as a filmmaker. From the post-traumatic stress syndrome experienced by former child soldiers in his feature film, The Killing Zone; to the complex alienation of black prison guards in his first… Show more narrative, The Keeper, Brewster's work has garnered awards both domestically and internationally. The Keeper was screened at Toronto, Sundance and Cannes Film Festivals and received a Spirit Award nomination. He is a 2009 Sundance Documentary Fellow, a Tribeca-Gucci Fund recipient, and a winner of the 2011 San Francisco Film Society Documentary Fund prize. Joe studied at Stanford University and received a medical degree at Harvard University. Show less
We fund untold stories for public media.
Learn more about funding opportunities with ITVS.
The Film
American Promise is a very personal documentary 12 years in the making. Filmmakers Joe Brewster and Michèle Stephenson turned the camera on themselves and began filming the experiences of their 5-year-old son Idris and his best friend Seun as they started kindergarten in 1999. The boys enrolled at the prestigious Dalton School on the Upper East Side of Manhattan, just as the private institution boldly strengthened its commitment to cultivating a diverse student body.
Over the 12 years, we see the boys and their families navigate learning differences that later become diagnoses, struggle with stereotypes and identity, and ultimately take divergent paths on their road to graduation. We also see a rare and vivid portrait of middle-class African American families as the filmmaker parents wrestle with doubts and angst over their son's educational journey and both families grapple with how best to support their sons and interact with teachers and administrators.
All of this is set against the backdrop of a persistent educational achievement gap that dramatically affects African American boys at all socioeconomic levels across the country. The film puts a face to the unique social and emotional needs of these boys and calls into question commonly held assumptions about access, resources, and what really influences academic performance.
Because — even with prominent role models like President Obama — many people still clutch their bags tighter when they see a black man approaching. These mixed messages and negative perceptions not only shape how African American boys see themselves, but also how their parents, teachers, and others see their potential.
Through the story of these two boys, American Promise illustrates how all of us play a part in the challenges black boys face creating a healthy self-identity — and why acknowledging this dynamic is an important step toward addressing achievement and their opportunities for success.
Topics