At Berkeley
Explore university life at The University of California at Berkeley, one of the finest research and teaching facilities in the world.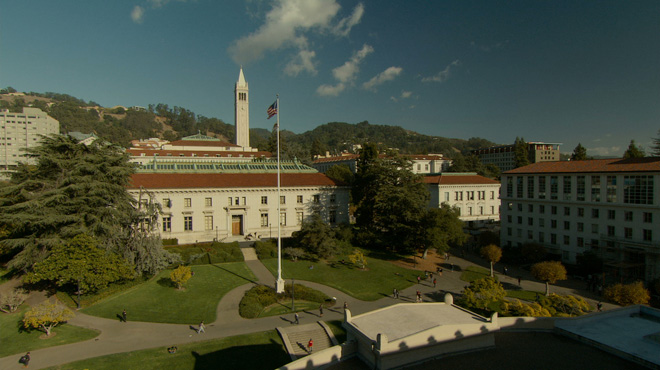 Series

Independent Lens

Premiere Date

January 13, 2014

Length

248 minutes

Funding Initiative

Series and Special Projects
Award
2013 National Society of Film Critics Awards-Best Non-Fiction
Producer/Director
Frederick Wiseman
Frederick Wiseman has made 39 documentaries and two fiction films. Among his documentaries are Titicut Follies, Welfare, Public Housing, Near Death, La Comédie Française Ou L'amour Joué, La Danse — le Ballet De L'opéra De Paris, and At Berkeley (Independent Lens, 2014). His documentaries are dramatic, narrative films that seek to portray the joy,… Show more sadness, comedy and tragedy of ordinary experience. His films have played in theatres and been broadcast on television in many countries. He is also a theater director and has directed The Last Letter, based on a chapter of Vasily Grossman's novel Life and Fate, and Samuel Beckett's Happy Days at the Comédie Française. Mr. Wiseman received his BA from Williams College in 1951 and his LLB from Yale Law School in 1954. He has received honorary doctorates from Bowdoin College, Princeton University, and Williams College, among others. He is a MacArthur Fellow, a Fellow of the American Academy of Arts and Sciences, the recipient of a Guggenheim Fellowship, and an Honorary Member of the American Academy of Arts and Letters. He has won numerous awards, including four Emmys and the Dan David Prize. He is also the recipient of the Career Achievement Award from the Los Angeles Film Society (2013); the George Polk Career Award (2006); the American Society of Cinematographers Distinguished Achievement Award (2006); and the Venice Film Festival Golden Lion (2014); among many others. Show less
We fund untold stories for public media.
Learn more about funding opportunities with ITVS.
The Film
The University of California at Berkeley is the oldest and most prestigious member of a 10-campus public education system and one of the finest research and teaching facilities in the world. At Berkeley explores the major aspects of university life with emphasis on the administrative efforts to maintain the academic excellence, public role, and the economic, racial, and social diversity of the student body of America's premiere public university in the face of drastic budgetary cuts imposed by the State of California.
It investigates how a major American university is administered and suggests the complex relationship among its various constituencies — students, faculty, administrators, alumni, the City of Berkeley, the State of California, and the federal government. In a more abstract way, the film will look closely at Berkeley's intellectual and social mission, its obligation to the state, and to larger ideas of higher education as well as illustrate how decisions are made and implemented by the administration in collaboration with its various constituencies.
Topics