Bhutto
Bhutto chronicles the life of one of the most complex and fascinating world leaders of our time, Benazir Bhutto.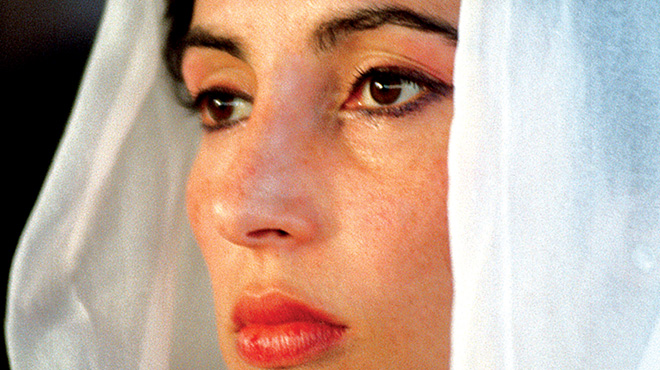 Series

Independent Lens

Premiere Date

May 10, 2011

Length

120 minutes
Award
2010 International Documentary Association (IDA)-ABC / NEWS VideoSource Award
Nominated
2011 News and Documentary Emmy Awards-Outstanding Continuing Coverage of a News Story
Award
2011 The White House Project-EPIC Award
Award
2011 Peabody Awards-George Foster Peabody Award
Producer/Director
Duane Baughman
Duane Baughman is the owner and founder of the San Francisco-based Yellow Pad Productions, through which he spent nearly three years directing, producing, and funding the 2010 Sundance Film Festival feature-length documentary selection Bhutto. He is the owner of the nationally regarded political direct mail firm, The Baughman Company which has been… Show more responsible for helping elect Michael R. Bloomberg mayor of New York City, and the historic presidential campaign of another barrier-breaking woman, Hillary Clinton. Show less
Director
Johnny O'Hara
Johnny O'Hara is a writer-director born and raised in New York City. He was the winner of the Sundance 2008 Audience Award for Best Documentary as the writer of Fuel, which went on to become one of 15 documentaries shortlisted for the 2009 Academy Awards. Fuel also was nominated by the Writers Guild of America for Best Documentary Screenplay in 2009. An… Show more author, O'Hara's first book, published by Penguin, is titled Elvis & You. Show less
Producer
Mark Siegel
Pakistan expert Mark Siegel, a partner at Locke Lord Strategies, has a vast political resumé that includes serving as deputy assistant to President Jimmy Carter, assistant to former Senator and Vice President Hubert H. Humphrey and executive director of the Democratic National Committee. Mark assisted Benazir Bhutto in updating her autobiography, Daughter of Destiny… Show more in 2007 and co-authored with her the international best selling book Reconciliation: Islam, Democracy, and the West shortly before her death. He frequently appears on television as a political analyst, and was a guest on The Daily Show with John Stewart interviewed about his book and friendship with Ms. Bhutto. During three Democratic National Conventions, Siegel served as political consultant to the late longtime CBS News anchor and newsman Walter Cronkite. A prominent speechwriter, he has written for presidents, vice presidents, senators, congressmen and corporate executives, as well as international dignitaries. Show less
Executive Producer
Glenn Aveni
Glenn Aveni is the owner and founder of Icon TMI and has 25 years experience in Hollywood producing, directing, and distributing major motion pictures and documentary features. He served as executive producer of Les Paul Chasing Sound that won the Chicago Film Festival's Silver Hugo Award as well as the Park City Music Festival's Gold Medal for Best… Show more Documentary Subject. Show less
We fund untold stories for public media.
Learn more about funding opportunities with ITVS.
The Film
Bhutto chronicles the life of one of the most complex and fascinating characters of our time. Hers is an epic tale of Shakespearean dimension. It's the story of the first Muslim woman elected in history to lead an Islamic nation: Pakistan.
Benazir Bhutto was born into a wealthy landowning family that became Pakistan's dominant political dynasty. Often referred to as the "Kennedys of Pakistan," the Bhuttos share a painful history of triumph and tragedy, played out on an international stage.
Educated at Harvard and Oxford, and with an eye on a foreign service career, Benazir's life changed forever when her father, Pakistan's first democratically elected president, chose Benazir to carry his political mantle over the family's eldest son. In the late '70s, when Zulfikar Ali Bhutto was overthrown and executed by his handpicked Army Chief, Benazir swore to avenge her father and restore democracy — or to die trying.
Benazir Bhutto may have broken the Islamic glass ceiling, but she was wed in a traditional arranged marriage to then-Karachi playboy Asif Ali Zardari. Her two terms in power saw acts of courage and controversy as she eradicated polio and stood up for women, while fighting the male-dominated political elite, and a nervous military leadership, while battling accusations of corruption and scandal.
In 2007, with the South Asian country in turmoil and under the thumb of yet another military dictator, Benazir was called back onto the world stage as Pakistan's best hope for democracy. With her assassination she transcended politics, but left a legacy of simmering controversy and undeniable courage that will be debated for years.
Topics