Brothers Hypnotic
Eight boys were forged into a band as children by their father. Now as young men, they must test their father's ideals against their own vision.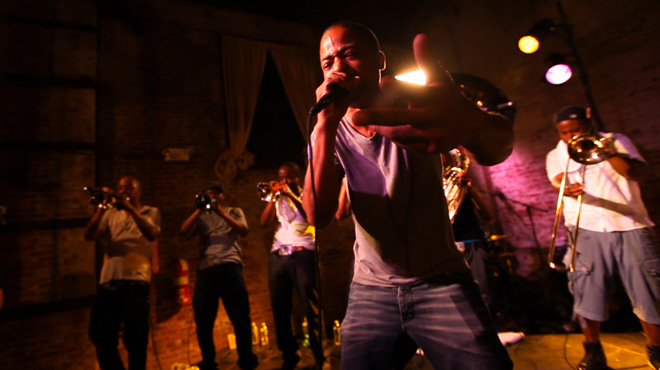 Series

Independent Lens

Premiere Date

April 7, 2014

Length

60 minutes

Funding Initiative

Open Call
Producer/Director
Reuben
Atlas
Reuben Atlas is an independent filmmaker and lawyer, selected for DOCNYC's inaugural 40 Under 40 list and as an Impact Partners Producers Fellow. He produced and directed with Sam Pollard, Acorn and the Firestorm, about the impactful and controversial community organizing group, ACORN. The film premiered at the Tribeca Film Festiva, was supported by… Show more Sundance, ITVS, Black Public Media, and the IDA, and broadcast on PBS's Independent Lens. He also co-directed with Jerry Rothwell the Netflix and Arte funded, Sour Grapes, about a counterfeit wine conman. His first film, Brothers Hypnotic, about the Hypnotic Brass Ensemble, which featured Prince, Phil Cohran, and Damon Albarn, premiered at the SXSW Film Festival, broadcast internationally and on PBS' Independent Lens, and is distributed by Factory 25. He previously worked at Legal Aid in Paterson, NJ, in counseling at maximum-security prison, as a bartender in the Netherland Antilles, and for a Cuban newspaper in Costa Rica. Show less
We fund untold stories for public media.
Learn more about funding opportunities with ITVS.
The Film
The eight young men who make up the Hypnotic Brass Ensemble are all sons of Phil Cohran, a legendary Chicago trumpeter who turned his back on commercial music to pursue astral jazz (with Sun Ra), proto-funk, and Black Power.
Cohran's ultimate avant-garde experiment, however, was his own sons. They lived an insular, communal existence on Chicago's South Side with Cohran and their two mothers — "Mama Maia" and "Mama Aquilla" — complete with homemade clothes, veganism, and invented holidays. Starting at age four, the boys also joined the family band. Rehearsals began each morning at 5 AM. But unlike the Jackson 5, Cohran's sons would not be bred for pop stardom, and instead would be taught to "create sounds to fuse with the body and heal the soul," and to serve as an inspiration for all families seeking something better.
Now the boys are young men, in their 20s and 30s and when they raise eight brass bells to the sky, they make transcendent music that ties currents from jazz to funk to hip hop. But while working together as their father had hoped, either playing for quarters in Times Square or negotiating with managers and record labels, they find the ideals their father bred into them tested and tested again. Indeed, they must question whether their fathers' values are really their own.
Brotherhood, whether biological or ideological, is never easy; Brothers Hypnotic is a coming of age story — for eight young men, and for an ideal.
Topics