Care
Americans are living longer, and the home care industry can't keep up with the demands of an aging "Baby Boomer" generation.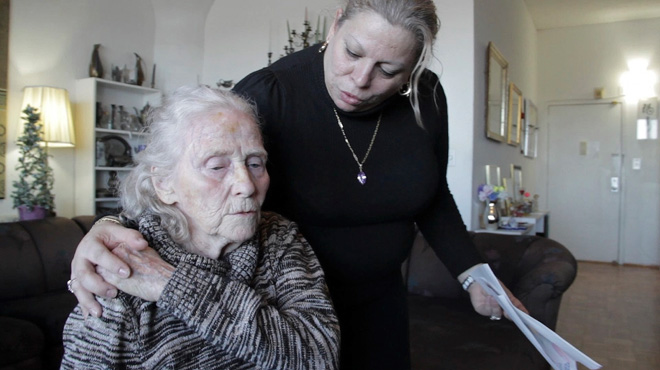 Series

America ReFramed

Funding Initiative

Open Call
Director
Deirdre Fishel
Deirdre Fishel is an independent filmmaker of both documentaries and dramas. Her films have premiered in competition at Sundance and SXSW and been broadcast in 35 countries worldwide. Her documentary Still Doing It: The Intimate Lives of Women Over 65 was also expanded into a book co-written with producer Diana Holtzberg. Recent projects include a web… Show more documentary Suicide On Campus, produced in conjunction with The New York Times Magazine, and a transmedia project, The Boy Game. Deirdre was a directing fellow at the American Film Institute and has an MFA from Hunter College. She is an Associate Professor of Media & Communication Arts at The City College of New York. Show less
Producer
Tony Heriza
Tony Heriza has been producing media for social change since the 1970s, when he was a co-founder of Community Media Productions in Dayton, Ohio. His 2009 documentary Concrete, Steel & Paint has been screened widely at festivals and was distributed through the filmmaker-owned co-op New Day Films. Heriza has taught documentary production at Rutgers… Show more University and the University of Pennsylvania and is currently Director of Media Production at the American Friends Service Committee. In 2015, he was selected by the U.S. Department of State as a filmmaker envoy in its film diplomacy program, American Film Showcase. Show less
We fund untold stories for public media.
Learn more about funding opportunities with ITVS.
The Film
With each decade, more Americans are living into their 80s and 90s — and as the "baby boom" ages, the elderly population is exploding. The vast majority of elders want to stay in their homes as long as possible, but the system of family care that historically met the needs of the elderly has been radically changed by women's entry into the workforce. Family care is increasingly being supplemented and replaced by paid home care. Home care is now the fastest growing occupation in the country, and yet remains one of the least regulated.

CARE demonstrates the profound contribution care workers make to their client's lives while revealing that our cobbled-together approach to elder care is failing both the elderly and the workers who provide care. The complexity of the issues (along with an aversion to the realities of aging) makes it easier to look away than face the impending crisis. CARE draws viewers into this hidden world through compelling, deeply human stories exposing the elder care dilemmas that virtually every viewer will come to face — either for a loved one or for themselves.
Topics