Carmen Meets Borat
What happened to the villagers who were misled into appearing as backward and ignorant Kazakhs in the film Borat?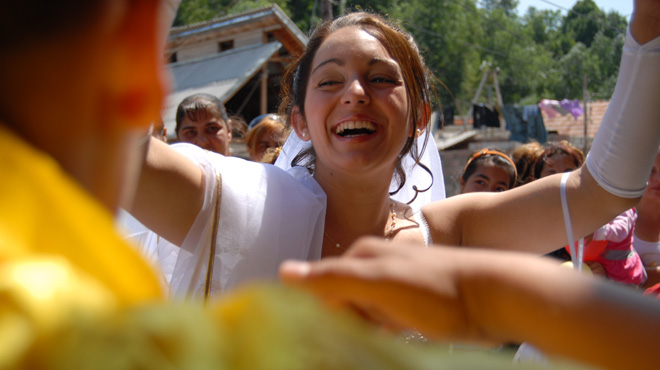 Series

Global Voices

Premiere Date

September 5, 2010

Length

60 minutes
Director
Mercedes
Stalenhoef
Mercedes Stalenhoef studied art history at the University of Leiden. The director and writer's 2002 film I Just Take My Toys With Me was nominated for Best Documentary at the Dutch Academy Awards, and Stalenhoef's I Never Want to be Famous won the Golden Calf Special Jury Prize at the 2006 Netherlands Film Festival. Her film Carmen Meets Borat premiered on… Show more European television in 2008 as When Borat Comes to Town. Stalenhoef has also created films for Amnesty International. Show less
We fund untold stories for public media.
Learn more about funding opportunities with ITVS.
The Film
In Carmen Meets Borat, director Mercedes Stalenhoef follows the life of 17-year-old Carmen. She lives in a gypsy village in Romania, where the men spend their days tying one on and exchanging coarse words in her father's bar. In the evenings, she watches a Spanish soap opera and dreams of a better life in Spain, where the men are romantic and decent. Her plan to emigrate falls to pieces when an American film crew descends on her village to shoot Borat: Cultural Learnings of America for Make Benefit Glorious Nation of Kazakhstan. The village is used in the movie to show where the main character comes from, and Borat depicts the villagers as primitive caricatures supposedly from Kazakhstan. Carmen's grandfather plays the part of an abortion expert and poses for the camera with a welding apparatus. A little later, Borat embraces a woman he introduces as his sister and brags about her status as the fourth best whore in Kazakhstan. The villagers don't understand a single word of English and laugh in good faith for the camera. When the film is released, the world press throws itself on the village and jealousy and suspicion predominate. The chaos is made complete when an American lawyer holds out the prospect of a $30 million insurance claim to the villagers. For Carmen, it becomes increasingly difficult to realize her dreams of a better life somewhere else.
Topics