Coal Bucket Outlaw
A startling glimpse into the lives of working people who haul the nation's fuel built around one day in the life of a Kentucky coal truck driver.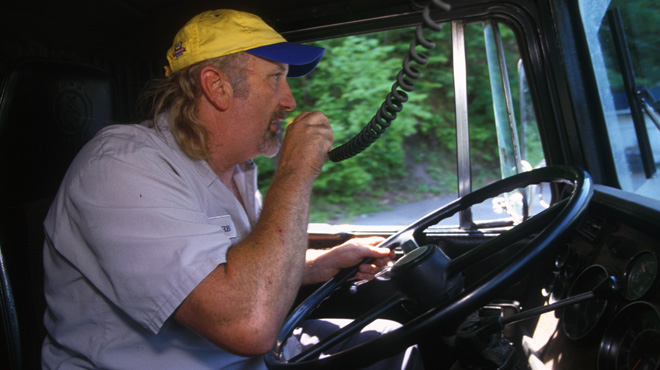 Premiere Date

May 1, 2003

Length

30 minutes

Funding Initiative

Series and Special Projects
Producer
Tom
Hansell
Hansell has worked at Appalshop since 1990, producing documentary radio and television programming. His current project is production of a documentary examining the impact of national energy policy on Appalachian coalfield communities. Hansell's 2002 documentary Coal Bucket Outlaw screened on public television in 30 states and was part of the… Show more Museum of Modern Art's documentary fortnight program that year. He received a Golden Reel Award from the National Federation of Community Broadcasters for his radio documentary, based on the film. He was awarded a Bridge Residency for community-based artists from the Headlands Center for the Arts in Sausalito, CA, in 2005. He is a graduate of the Ohio University School of Telecommunications in Athens. Show less
We fund untold stories for public media.
Learn more about funding opportunities with ITVS.
The Film
The U.S. Department of Energy reports that coal produces over half of our nation's electricity. Coal Bucket Outlaw is built around a day in the life of a Kentucky coal truck driver. This digital documentary gives Americans a direct look at where our energy comes from, and reveals the human and environmental price we pay for our national addiction to fossil fuels.
The narrative line follows two Kentucky coal truck drivers as they chase their version of the American dream. Viewers learn how the economics of the coal business demand that both drivers break the law every day. A veteran independent trucker plays the "cops and robbers" game with the weight crew from the Department of Transportation. A young driver debates whether to keep hauling coal or to move his family to the city. And, a father describes a collision with a coal truck that killed his teenage son. Facts and figures about coal as an energy source will place these individual struggles in a national context.
Coal Bucket Outlaw examines the connection between coal haulers and the larger system that produces America's electricity. If outlaws deliver half of our nations energy, are consumers and policymakers completely innocent?
Topics