Coming Out Under Fire
Gay and lesbian soldiers in World War II found themselves fighting two wars: one for their country; the other as targets of military policy.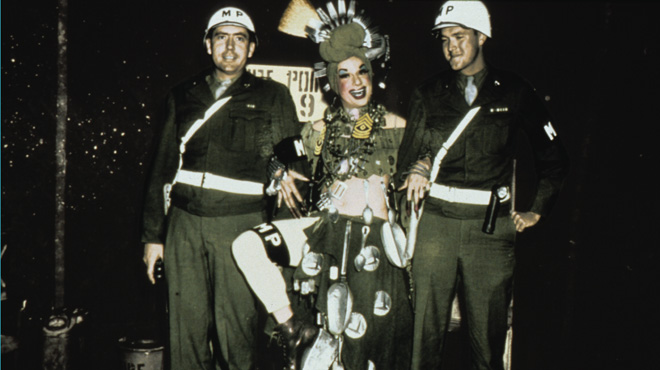 Series

PBS Plus Presentation

Premiere Date

June 1, 1995

Length

60 minutes

Funding Initiative

Open Call
Award
1994 Sundance Film Festival-Special Jury Award for Technical Excellence
Award
1994 International Documentary Association (IDA)-Silver Certificate
Award
1995 National Educational Media Network-Gold Apple
Award
1995 SFFilm Festival-Golden Gate Award, Best of Festival
Award
1995 GLAAD Media Awards-Outstanding Film Documentary
Award
1996 Peabody Awards-George Foster Peabody Award
Producer
Arthur
Dong
Since his first high school film in 1970, which depicted a child's view of war, Arthur Dong has produced films reflecting the resilience of the human spirit in the face of social injustices. His films include stories of immigrants making a new life in America (the Oscar nominated Sewing Woman), Asian-American performers seeking equal participation in the… Show more entertainment industry (Forbidden City, U.S.A.), the footbinding of women in China (Lotus); and in his most recent film, Coming Out Under Fire, Dong explores the U.S. government's systematic persecution of gay and lesbian soldiers. At the Los Angeles PBS station KCET, he produced 10 documentaries for the Life & Times public television series. For his work there, Dong received three Los Angeles Emmy nominations for stories dealing with the Los Angeles riots, the role of the theatre in promoting social change, the plight of the Amerasians, and the fight against homophobia. In addition to the Emmy and Oscar nominations, Dong is the recipient of more than 60 American and International film awards and has received fellowships from the National Endowment for the Arts and the Rockefeller Foundation. Arthur Dong is a graduate of the Film School at San Francisco State University (1982 Summa Cum Laude) and the American Film Institute's Center for Advanced Film and Television Studies (1984, Director's Program). Show less
We fund untold stories for public media.
Learn more about funding opportunities with ITVS.
The Film
In 1993, the controversy over the US military's ban on homosexuals touched off a furious and polarizing national exchange. Yet, for many Americans this issue seemed to come out of nowhere. Coming Out Under Fire, an hour-long documentary from Arthur Dong, goes to the World War II origins of today's "don't ask, don't tell" compromise. Based on Alan Bérubé's groundbreaking book Coming Out Under Fire: The History of Gay Men and Women in World War II, this program presents the true stories of those who found themselves fighting two battles: one for their country and another for their right to serve.
While current-day media coverage has shown Senators visiting barracks and submarine sleeping quarters, there has been little acknowledgment of the history and origins of this 50-year-old policy. "The media deals with emotions and hysteria, the sensationalism of the issue," says Coming Out Under Fire producer/director Arthur Dong. "What we're trying to do is bring that history out."
Dong uncovers the history of a military policy that labeled homosexuals as mentally ill and sought their discharge as "undesirables." The first-person stories of nine World War II gay and lesbian veterans recount how many joined the patriotic fight against fascism only to find themselves at war with their own government.
Coming Out Under Fire is a rare personal look at war, secrecy, and the pain of exposure. Powerful interviews are combined with an array of vintage declassified documents, photographs, and rare archival footage of medical examinations, psychiatric sessions, boot camp training, sex education lectures, and "drag" troop entertainment. By placing the issue in a historical and social context, Dong goes right to the heart of the military's anti-homosexual policy and demonstrates how "pseudo psychiatry" was used to justify a policy of bigotry.
Co-written by author Bérubé, Coming Out Under Fire features gay and lesbian veterans who candidly share their memories of daily military life. They recall their willingness to serve their country in the face of oppressive and humiliating treatment that included dehumanizing interrogations, medical examinations, and incarceration in "queer stockades" and hospitals for the criminally insane. Finally, those discovered were punished with dishonorable discharges that stigmatized them in civilian life and denied them veteran benefits regardless of length or quality of duty served.
Topics