Cowboys, Indians, & Lawyers
A Western community fights over a massive dam proposed to serve Indian-owned, coal-fired power plants, providing an intimate portrait of American pork barrel politics and Anglo-Indian relations.
Series

PBS Plus Presentation

Premiere Date

April 1, 2007

Length

60 minutes

Funding Initiative

Open Call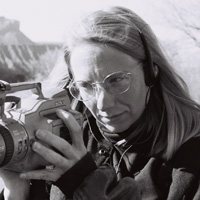 Producer
Julia
Dengel
Dengel has worked as a documentary cinematographer since 1993. She recently shot on films such as I Bring What I Love, a feature documentary on Senegalese superstar Youssou N'Dour, Team Lioness, a feature documentary on American women soldiers who have fought in Iraq, and I'm From Rolling Stone, an MTV reality series. Julia Dengel was producer, director,… Show more and cinematographer for Cowboys, Indians, & Lawyers. Dengel's other directing credits include A Sense of Place, a short documentary chronicling the history of electricity in southwest Colorado. She also directed the documentary short, The Wild San Juans which explores the human relationship to the wild national forest lands in Southwest Colorado. Dengel shot for Jennifer Fox's Learning to Swim, a documentary on Namkhai Norbu, a Tibetan Buddhist master living in exile in Italy, and served as associate editor for An American Love Story, a 10-part documentary series co-produced with American Playhouse that aired nationally in 1999. Show less
We fund untold stories for public media.
Learn more about funding opportunities with ITVS.
The Film
Cowboys, Indians, & Lawyers follows the fortunes of two enemy camps as they struggle over the fate of the free-flowing Animas River in Colorado. A massive, federal dam project called the Animas-La Plata (ALP) was authorized by Congress almost 40 years ago to help white farmers irrigate desert lands, but has never been built. With the Southern Ute Indian tribe recruited as a key promoter, Sage Remington, a radical Southern Ute activist pits himself against his own tribal government and their politically connected lawyer, Sam Maynes. While Sam's friendship with the tribal chairman helps solidify the tribe's alliance with developers, Sage finds allies in a group of white environmentalists.
Can a multicultural alliance of determined activists stop a dam supported by all the biggest development interests in the Southwest? In an intimate portrait of pork barrel politics, the film takes us along as these unlikely nemeses bring their cases to the halls of Congress, revealing the rich complexities of American democracy and Anglo-Indian relations through a rural community battle over money, power, and water.
Topics