Discovering Dominga
A young mother living in Iowa discovers she is a survivor of one of the most egregious massacres in Guatemala's 36-year civil war.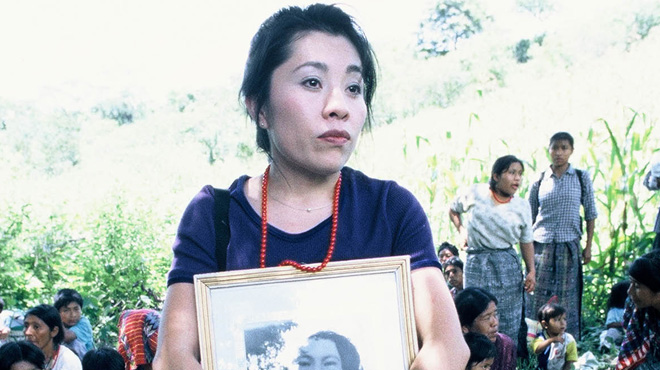 Series

POV, Global Voices

Premiere Date

July 8, 2003

Length

60 minutes

Funding Initiative

Open Call
Award
2003 Los Angeles Latino International Film Festival-Best Documentary
Award
2003 Bermuda International Film Festival-Best Documentary
Producer/Director
Patricia
Flynn
An award-winning broadcaster, Patricia Flynn has produced public affairs programming and documentaries for public television and radio for more than 20 years. She was a producer for the PBS documentary series In Search Of Law And Order, and for Religion & Ethics Newsweekly on PBS. A recipient of the Robert F. Kennedy Journalism Award, Flynn is the… Show more co-author of two books on U.S.-Latin American relations. Show less
Co-Producer
Mary Jo
McConahay
Mary Jo McConahay has been writing about Latin America for more than 20 years. Her feature articles have appeared in Vogue, Rolling Stone, Ms., and Sierra magazines. She has been honored for her work by the World Affairs Council, and received a Hibakusha Fellowship in Japan. McConahay is a long-time staff reporter for Pacific News Service.
We fund untold stories for public media.
Learn more about funding opportunities with ITVS.
The Film
When 29-year-old Iowa housewife Denese Becker decides to return to the Guatemalan village where she was born, she begins a journey towards finding her roots, but one filled with harrowing revelations. Denese, born Dominga, was nine when she became her family's sole survivor of a massacre of Mayan peasants. Two years later she was adopted by an American family. In Discovering Dominga, Denese's journey home is both a voyage of self-discovery that permanently alters her relationship to her American family and a political awakening that sheds light on an act of genocide against this hemisphere's largest Indian majority.
On March 13, 1982, Denese Becker was a 9-year-old Maya girl named Dominga living in the Maya highlands, when the Guatemalan army entered the village of Rio Negro. By the time the soldiers left, hundreds of people, including 70 women and 107 children, had been massacred and dumped in a mass grave.
Dominga was one of the unaccountably "lucky" survivors of the massacre at Rio Negro. Placed in an orphanage, she was adopted two years later by a Baptist minister and his wife from Iowa.
But Denese never completely forgot her childhood as Dominga, and was haunted by memories of her parents' murder. She decided to return to find her remaining relatives. Inexorably, Denese is drawn into the ongoing struggle of the surviving Rio Negro community to find justice. Eventually she becomes a witness in a landmark human rights case brought against the Guatemalan military.
Back in the U.S., she begins speaking about her experiences before school and community groups. For Denese, honoring the truth is morally necessary, but also personally shattering.
Topics