Double Dare
The Hollywood stuntwomen who doubled for Wonder Woman and Xena: Warrior Princess struggle to stay employed, stay thin and stay sane.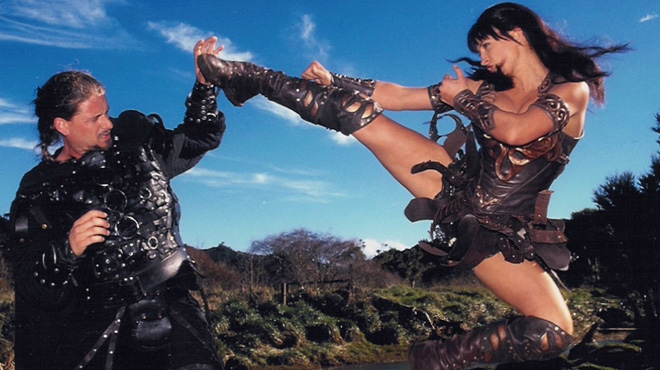 Series

Independent Lens

Premiere Date

May 31, 2005

Length

90 minutes
Award
2003 AFI Docs Film Festival-Audience Award for Documentary
Award
2004 Independent Film Festival Boston-Audience Award and Special Jury Prize
Award
2004 SFFilm Festival-Audience Award, Best Documentary
Award
2004 Feminale Festival Cologne-Audience Award
Award
2004 Sonoma Valley Film Festival-Audience Award
Award
2004 Woodstock Film Festival-Maverick Award Best Director and Best Editing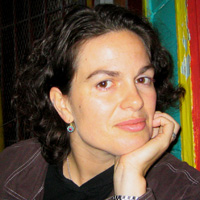 Director
Amanda Micheli
Amanda Micheli is an award-winning filmmaker with a solid background as both a director and a cinematographer. She shot, edited, and directed Just for the Ride, a documentary about cowgirls on the women's Pro Rodeo circuit, which won an Academy Award and International Documentary Association Award in student categories and premiered on the PBS series P.O.V.… Show more in 1996. Since then she has shot a Sundance Award-winning documentary, My Flesh and Blood (HBO) and an Emmy-nominated film in Cambodia, The Flute Player (PBS). She also shot a film in Ghana, Witches in Exile, which won the special jury prize at South by Southwest. Most recently, Micheli shot and produced an HBO documentary directed by photographer Lauren Greenfield and an episode for Morgan Spurlock's series, 30 Days. Other production credits include: You're Gonna Miss Me, Same River Twice (Sundance 2003), and the ITVS series Girls in America. A graduate of Harvard University, Micheli has also been a member of the top U.S. women's rugby team for over a decade. Show less
Producer
Karen Johnson
Karen Johnson is an independent producer of documentary and fiction features. She is particularly drawn to subjects about women and women's history. Her credits include the dramatic feature Prospect, adapted from the play and directed by acclaimed playwright Octavio Solis; the romantic comedy Twice Upon A Yesterday starring Penelope Cruz; and the… Show more Hollywood satire Hip! Edgy! Quirky! starring Joan Rivers and Phyllis Diller. She is currently working on two feature films: The Polka Dot Princess, a documentary about the avant-garde artist Yayoi Kusama, and Life? or Theatre?, the dramatic true story of the young German Jewish artist Charlotte Salomon, directed by Paul Morrison, the writer/director of the Oscar-nominated film Salomon and Gaenor. She is also developing the reality series Nerd Girls, about a team of female engineering students from Boston-area universities who spend their summer break building a solar car. Johnson is an attorney and a graduate of USC's Peter Stark Producing Program. Show less
Producer
Danielle Renfew
Danielle Renfrew is an accomplished independent producer with credits ranging from grassroots documentaries to major motion pictures. She produced the independent feature film Groove, which premiered at the Sundance Film Festival in 2000 and was distributed by Sony Pictures Classics. Soon after, she formed Map Point Pictures with Groove director… Show more Greg Harrison. Through Map Point, she produced November, a thriller starring Courteney Cox and James Le Gros for IFC and InDigEnt, and Double Dare. November premiered in competition at Sundance 2004 where it won the award for best cinematography. Renfrew is currently in post-production on Katrina Holden Bronson's feature directorial debut Daltry Calhoun for Quentin Tarantino's L. Driver Productions and Miramax. The film stars Johnny Knoxville, Juliette Lewis, and Elizabeth Banks. She was nominated for the Independent Spirit Awards' Bravo/American Express Producers Award. Show less
We fund untold stories for public media.
Learn more about funding opportunities with ITVS.
The Film
As the stuntwomen for Wonder Woman and Xena: Warrior Princess, Jeannie Epper and Zoë Bell are Hollywood's anonymous heroes, taking the hits that make actors into stars. Double Dare explores the lives of Epper and Bell as they face the challenges of a dangerous and male-dominated profession. The real women behind these two world-famous icons are at drastically different crossroads in their lives: Epper, a grandmother, struggles with the aging process and Hollywood's dearth of older female roles as Bell, a young woman, is unaware of the feminist history that has preceded her in the notoriously macho stunt industry.
Director Amanda Micheli was inspired to make Double Dare after meeting several stuntwomen and hearing about their challenges in working in the stunt industry: having to prove themselves to directors, struggling with near-impossible beauty standards, and fighting to be promoted to the higher position of stunt coordinator.
When Epper becomes a mentor for Bell, these two women from opposite sides of the world and opposite ends of their careers find a way to survive in the industry together. Double Dare is a portrait of these doubles for Wonder Woman and Xena, doubles for each other, and doubles for the average American woman struggling against the race of time.
Topics